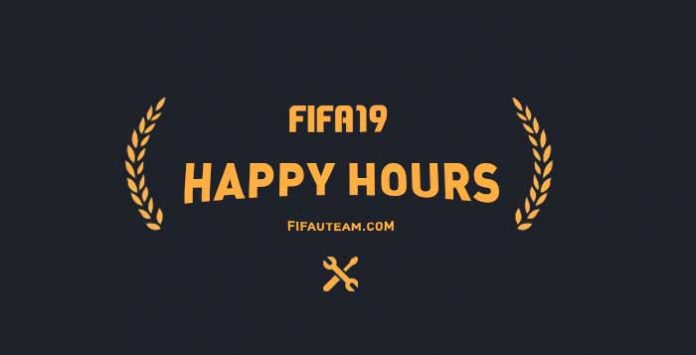 Do you want to know when the next FIFA 19 Happy Hour will be released? You can find all the promo packs in this page. FIFA 19 Happy Hour times for FUT will be updated in real-time right here. EA will release many new promo pack offers into the FIFA 19 Ultimate Team store via the Web App, Companion App and your console at different times. It's important to stay up-to-date on these offers as they massively influence player prices on the FUT transfer market.
MONTH
2018 SEP | OCT | NOV | DEC
2019 JAN | FEB | MAR | APR | | JUN | JUL | AUG
This page is updated every time it is announced a new FIFA 19 Happy Hour.
You can access this page on the top bar navigation: Live – Happy Hour
FIFA 19 Happy Hour Times and Promo Pack Offers List
Happy Hour may vary from platform to platform. This list is not applicable to iOS and Android

We'll update all the latest FIFA 19 Happy Hour times below, where the latest will appear at the top.



FIFA 19 HAPPY HOUR
P Promo Packs or L Lightning Round
Promo Pack or Lightning Round | Name of the Pack | Release Date | Duration | Limit | IF/Special Cards Available in Packs


OCTOBER 2018
P –k NAME OF THE PACK | 🇬🇧 –/10/2017 6PM | 🇺🇸 –/10/2017 1PM | 24 HOURS | LIMIT: 10 | TOTW –


Frequently Asked Questions
What you need to know about FIFA 19 Happy Hours and Promo Pack Offers

Q: What is a FIFA 19 Happy Hour?
A: A Happy Hour is a specific period of time while promo packs are available on the store. Regular packs are not cheaper during Happy Hours and the odds of getting an IF card are exactly the same, except for the 2x chance. They are not announced in advance. These special promotional packs are available for a limited time and will vary in terms of pack type, duration and limits.
Q: What is a FIFA 19 Lightning Round?
A: Lightning Rounds are pack offers that are released worldwide in limited quantities, first come, first served. They usually last 1 hour or until the packs run out, whichever is sooner. On another hand, without a limit of packs for each user, you are free to buy how many promo packs you want as long as they are not sold out.
Q: Which special cards are available during FIFA 19 Happy Hours?
A: This varies at different times. In this page, you'll always find which informs or new players are available with each pack offer.
Q: What are all the different pack types in FIFA 19?
You can find a list of all the FIFA 19 Packs in our updated guide.
Q: When are Happy Hours released on FIFA 19?
A: There are times of the year that you'll see a lot more special FUT promotional pack offers. These include TOTY, TOTS, Halloween, Black Friday, Cyber Monday, FUTmas, Lunar New Year, St. Patrick's Day and FUT Birthday.
Q: Will the FIFA 19 packs be available on mobile?
A: There is no relation between the packs released for XBox, Playstation and PC, and the packs released for the FIFA Mobile.
Q: Can I open packs on the Web or Companion app?
A: Sure. You cannot purchase FIFA points in any of the two apps, but you can redeem points or coins for packs in the store.