FUT 13 Serie A TOTS was released. Find out who are the players of this fifth FIFA 13 Ultimate Team TOTS.
FUT 13 Serie A TOTS
If you want to know what TOTS is and how it works, read it HERE.
You will be able to learn everything about it.
After the FUT 13 Most Consistent But Never IF, after the Barclays Premier League TOTS and after the Bundesliga TOTS it is time to see who are in the FUT 13 Serie A TOTS.
This Team of the Season join the players of the highest Italian division that played better in the whole season.
We will show you one by one, all the players of the FIFA 13 Ultimate Team Serie A TOTS.
Here it is the FUT 13 Serie A TOTS:
Starting Eleven

GK: Federico Marchetti, Lazio – 83 (84)>89
CB: Hugo Campagnaro, Napoli – 81 (82)>87
CB: Medhi Benatia, Udinese – 82>87
CB: Andrea Barzagli, Juventus – 84>89
CDM: Arturo Vidal, Juventus – 84 (85)>89
RM: Stephan Lichtsteiner, Juventus – 82>87
CM: Borja Valero, Fiorentina – 80>85
CAM: Marek Hamšik, Napoli – 85 (87)>91
LW: Stephan El Shaarawy, Milan – 81>88
ST: Edinson Cavani, Napoli – 86 (88)>92
ST: Antonio Di Natale, Udinese – 85 (87)>92
Subs

GK: Gianluigi Buffon, Juventus – 87>92
CB: Gonzalo Rodríguez, Fiorentina – 76>82
LB: Manuel Pasqual, Fiorentina – 75>82
RM: Dušan Basta, Udinese – 78>83
LW: Adem Ljajić, Fiorentina – 75 (77)>82
RW: Erik Lamela, Roma – 77 (79)>85
ST: Mario Balotelli, Milan – 84 (85)>89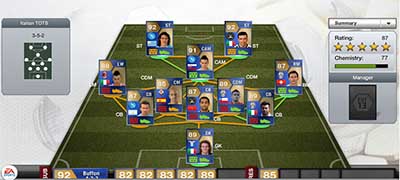 Click above the image to maximize it
GoalKeepers
FEDERICO MARCHETTI
Position: GK
Nationality: Italian
Club: Lazio
Date of Birth: 7 Feb 1983
Rating: 83 (84)>89
Number of TOTW cards: 1
Defenders
Midfielders
Attackers
These new Serie A TOTS cards are available in packs from 6pm May 29th to 5:30pm June 5th.
It is your chance to improve your team with the best players of Calcio.
Besides the FUT 13 Serie A TOTS, you can also remember who was on the FIFA 12 Southern Europe TOTS HERE.