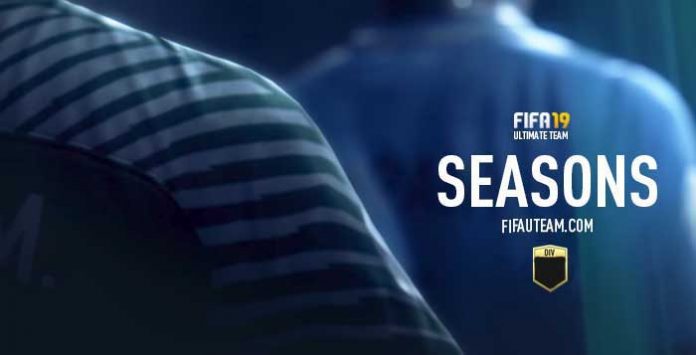 How much coins and packs do you earn in each division? Find here all the FIFA 19 seasons rewards for single player divisions mode.

SINGLE PLAYER DIVISIONS
01 02 03 04 05 06 07 08 09 10


Introduction to FUT 19 Divisions
A brief introduction to the FIFA 19 Seasons for Ultimate Tean mode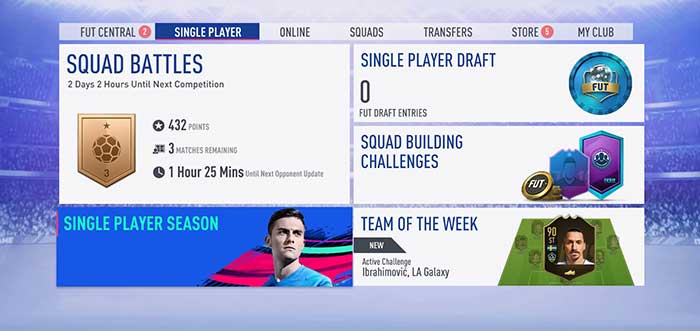 Before the Squad Battles release, Seasons were the most popular single player game mode. If you don't know how it works, we will give you a brief explanation. You start in division 10 (each season has 10 games), the lower one, and try to win the most games possible in order to reach the division 1 title. Or at least, go as far as possible. The higher you go up, the higher level of difficulty you have to play and the better are the rewards. In single player mode, you have from 4 to 7 leagues to pick. This year, you don't have to meet any entry requirement in order to play.
Since FIFA 19, you can only play seasons in single player mode. Online mode was replaced by FUT Divisions Rivals.
In this page we will show you the FIFA 19 seasons rewards for single player mode, as well the points you need to reach for each goal.
FIFA 19 Seasons Rewards – Single Player Divisions
Divisions & Awards List for Single Player game mode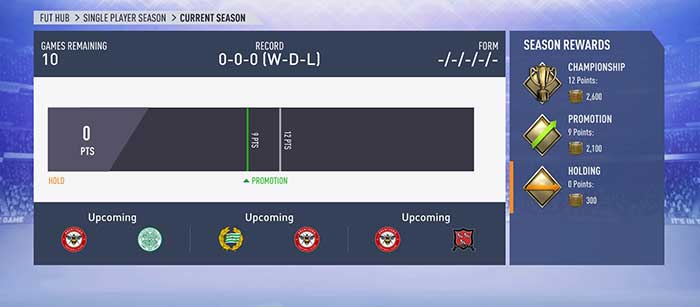 For not verified divisions, you may find slight differences between the rewards published on this page and the real ones.
If you do, please inform us in the comments

CONFIRMED
BEGGINER
⭐ 0.5
🏆
Title
| 12 or more points | 💰 2,500 coins
⬆️
Promotion
| 9 to 11 points | 💰 2,000 coins
↩️
Holding
| 0 points | 💰 300 coins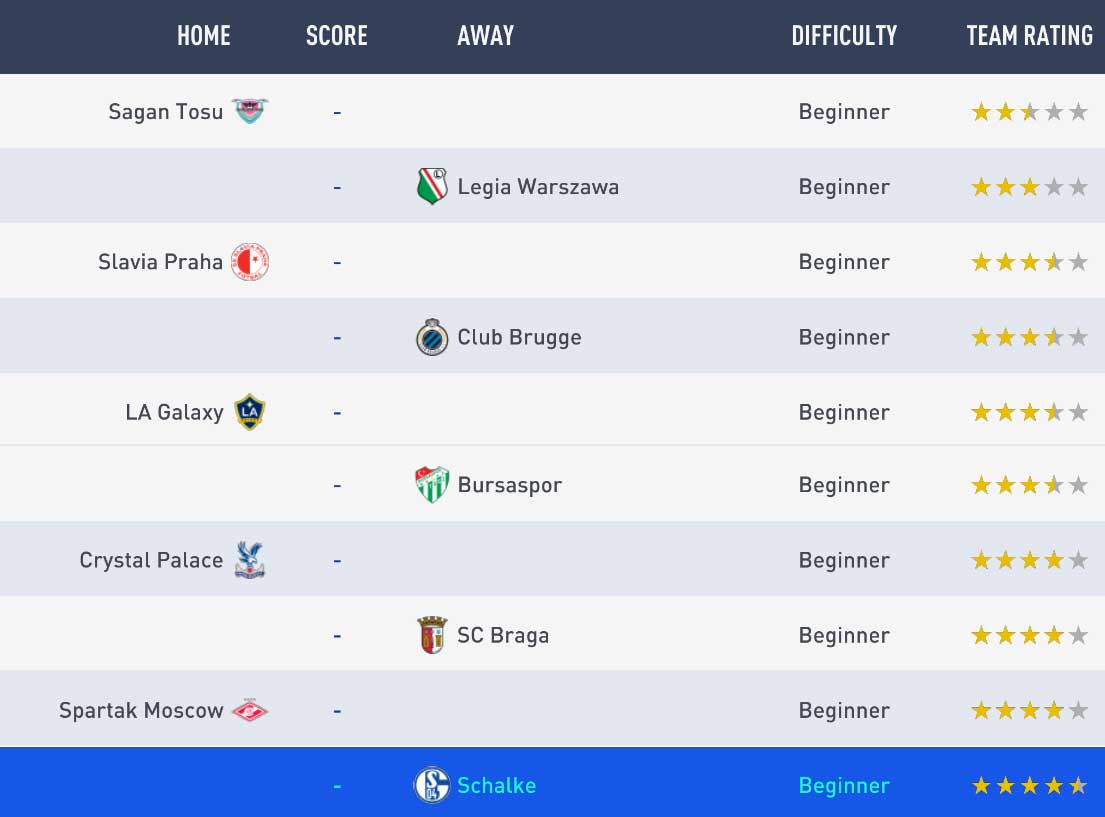 AMATEUR
⭐ 0.5
🏆
Title
| 12 or more points | 💰 2,600 coins
⬆️
Promotion
| 9 to 11 points | 💰 2,100 coins
↩️
Holding
| 0 points | 💰 300 coins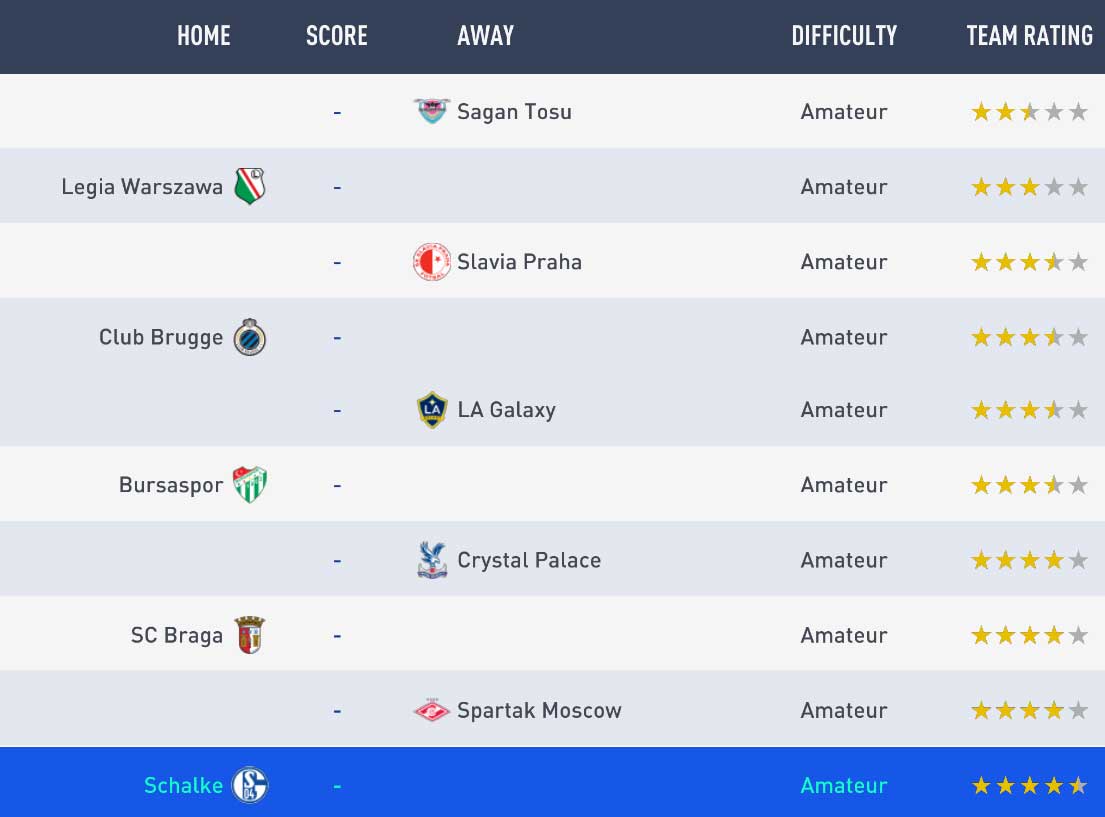 SEMI-PRO
⭐ 1.5
🏆
Title
| 12 or more points | 💰 1,100 coins + 🎴
Bronze pack
(tradeable)
⬆️
Promotion
| 9 to 11 points | 💰 2,000 coins
↩️
Holding
| 0 points | 💰 300 coins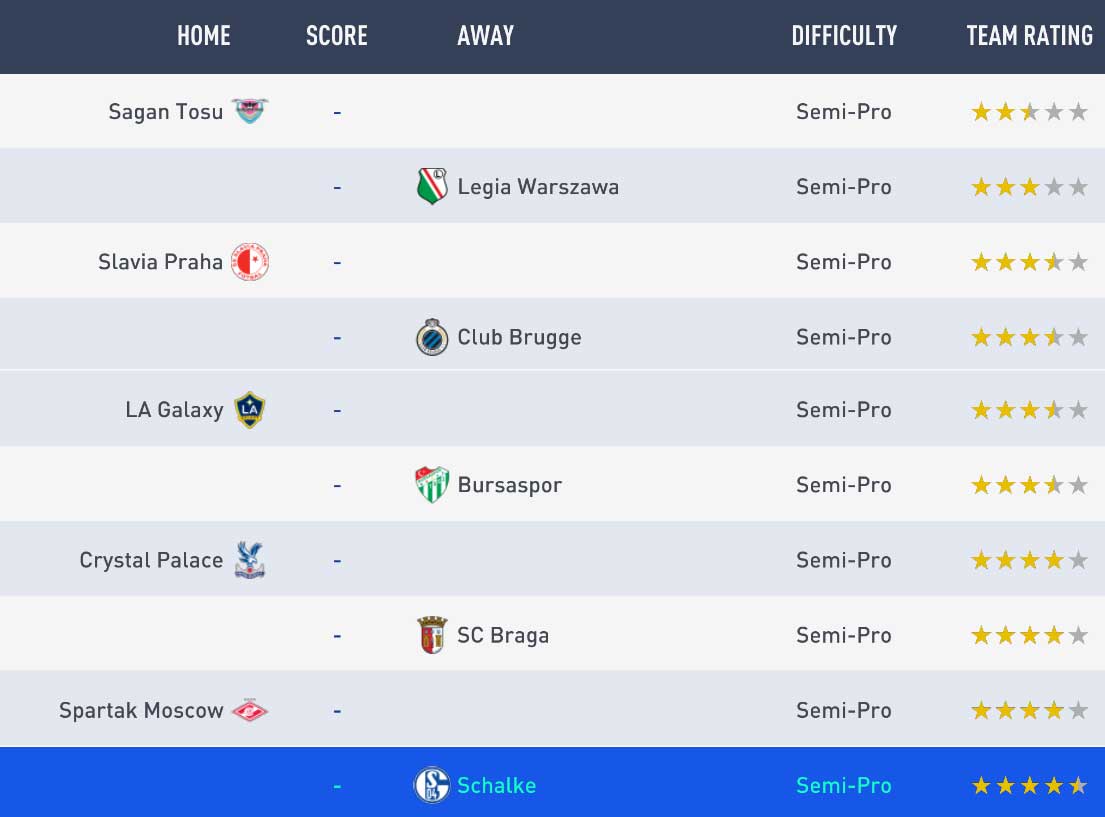 PROFESSIONAL
⭐ 1.5
🏆
Title
| 12 or more points | 💰 3,000 coins
⬆️
Promotion
| 9 to 11 points | 💰 2,400 coins
↩️
Holding
| 0 points | 💰 300 coins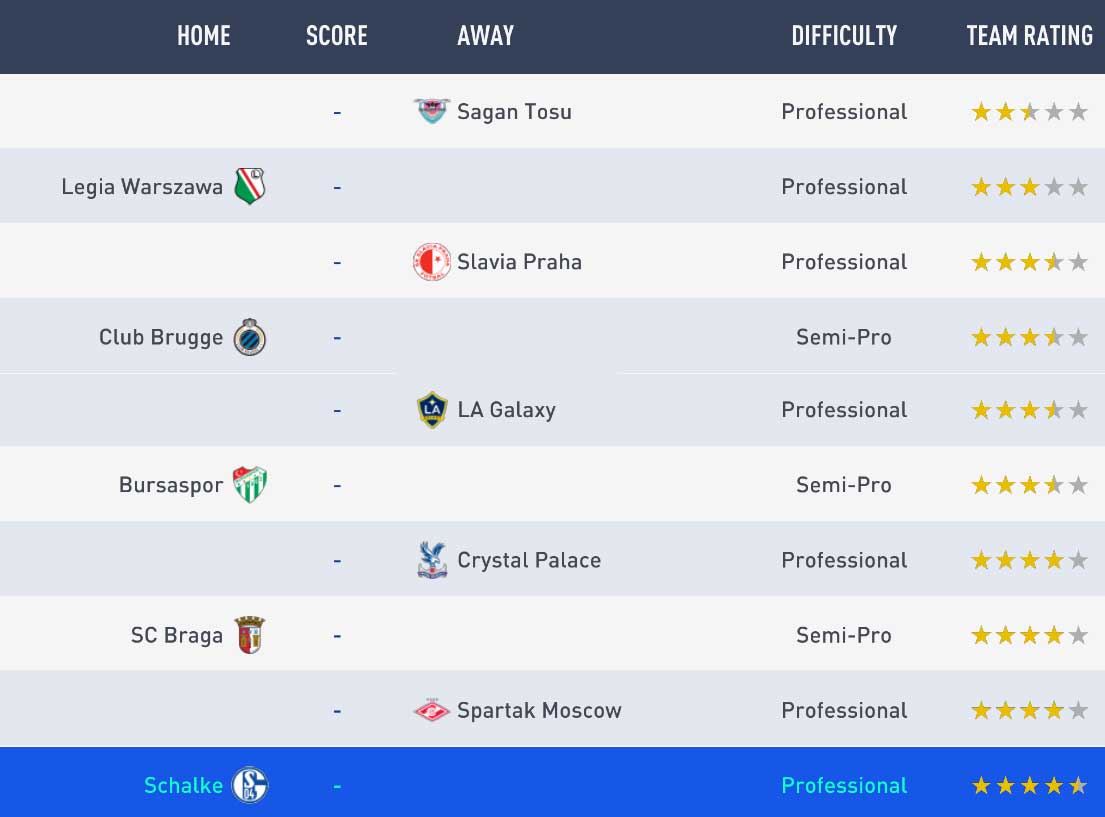 WORLD CLASS
⭐ 2.5
🏆
Title
| 12 or more points | 💰 3,700 coins
⬆️
Promotion
| 9 to 11 points | 💰 3.000 coins
↩️
Holding
| 0 points | 💰 300 coins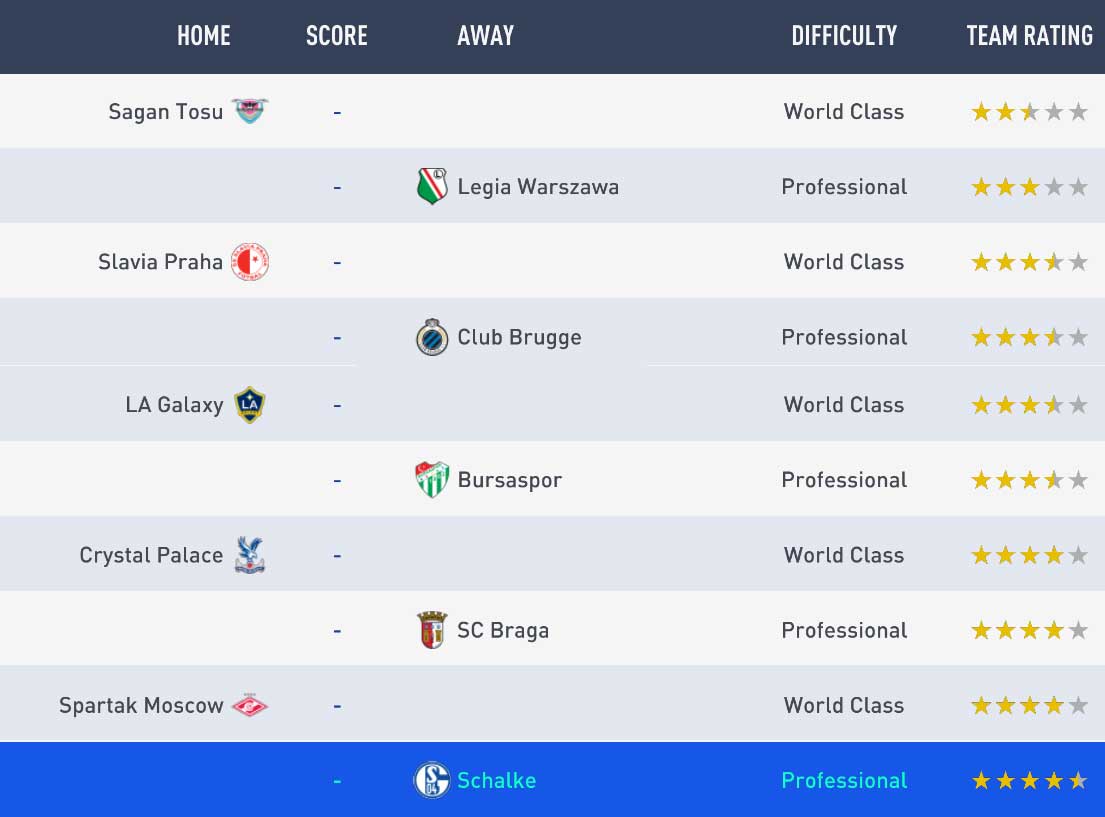 LEGENDARY
⭐ 3.5
🏆
Title
| 12 or more points | 💰 4.100 coins
⬆️
Promotion
| 9 to 11 points | 💰 3.300 coins
↩️
Holding
| 0 points | 💰 300 coins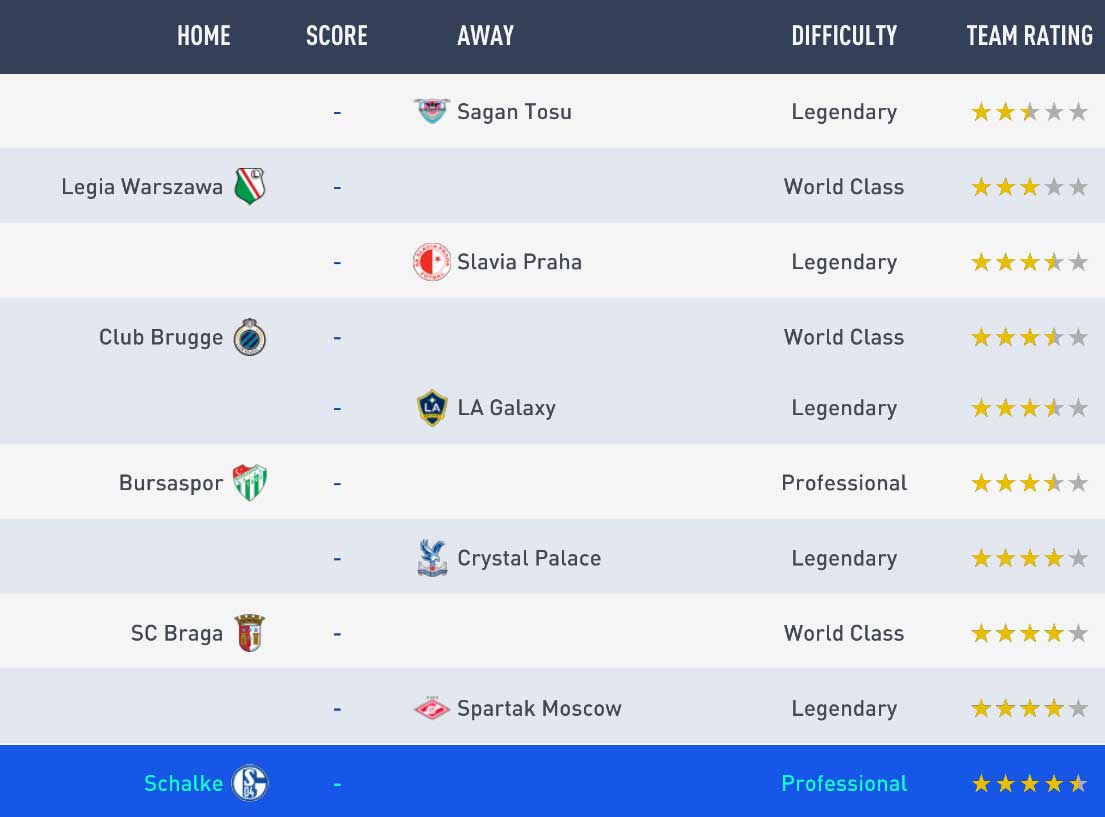 ULTIMATE
⭐ 5.0
🏆
Title
| 12 or more points | 💰 4.600 coins
⬆️
Promotion
| 9 to 11 points | 💰 3.700 coins
↩️
Holding
| 0 points | 💰 300 coins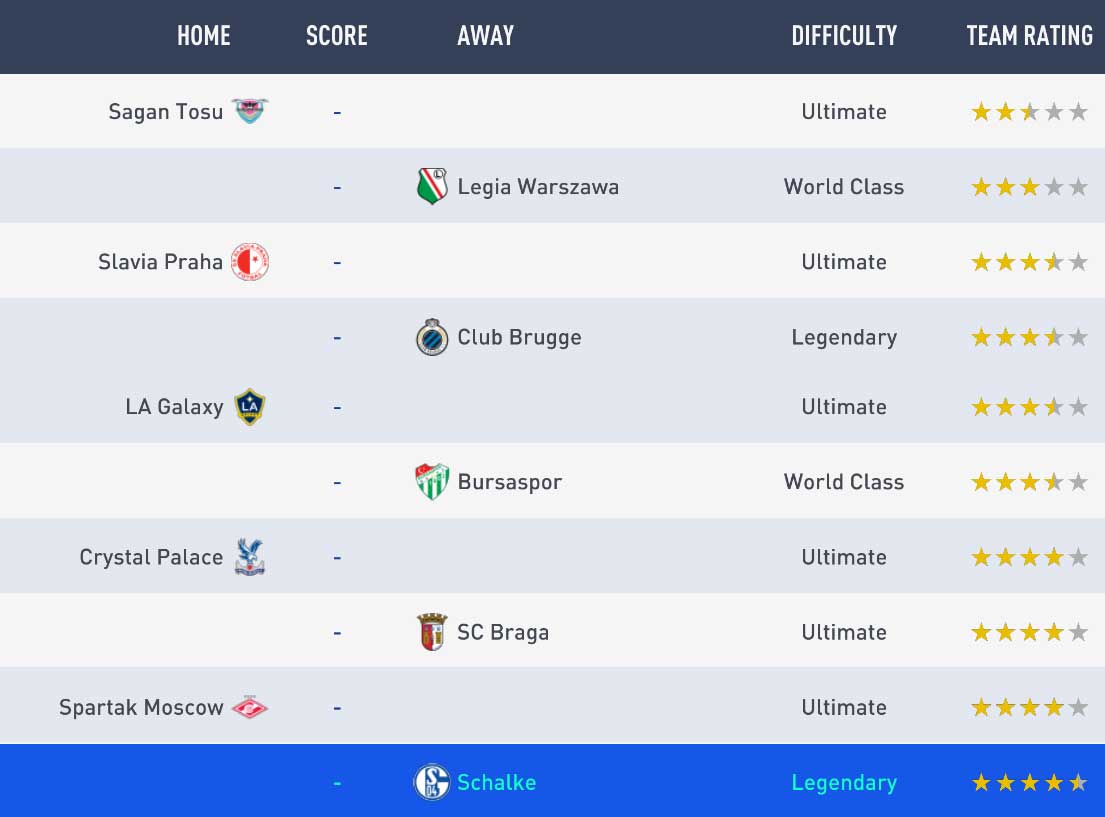 CONFIRMED
WORLD TOUR
⭐ 1.0
🏆
Title
| 17 or more points | 💰 1,300 coins
⬆️
Promotion
| 14 to 16 points | 💰 1,000 coins
↩️
Holding
| 7 to 13 points | 💰 800 coins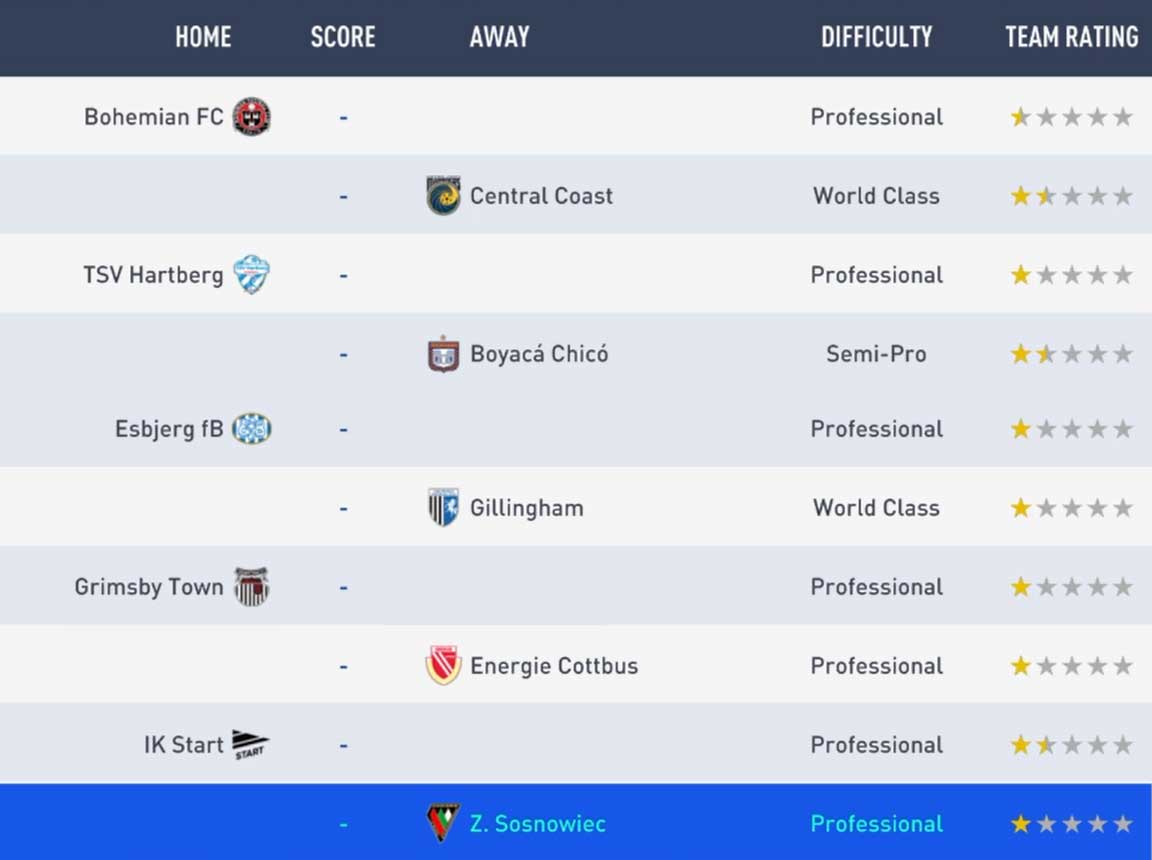 CHINESE SUPER LEAGUE
⭐ 1.0
🏆
Title
| 14 or more points | 💰 1,500 coins
⬆️
Promotion
| 11 to 13 points | 💰 1,200 coins
↩️
Holding
| 7 to 10 points | 💰 900 coins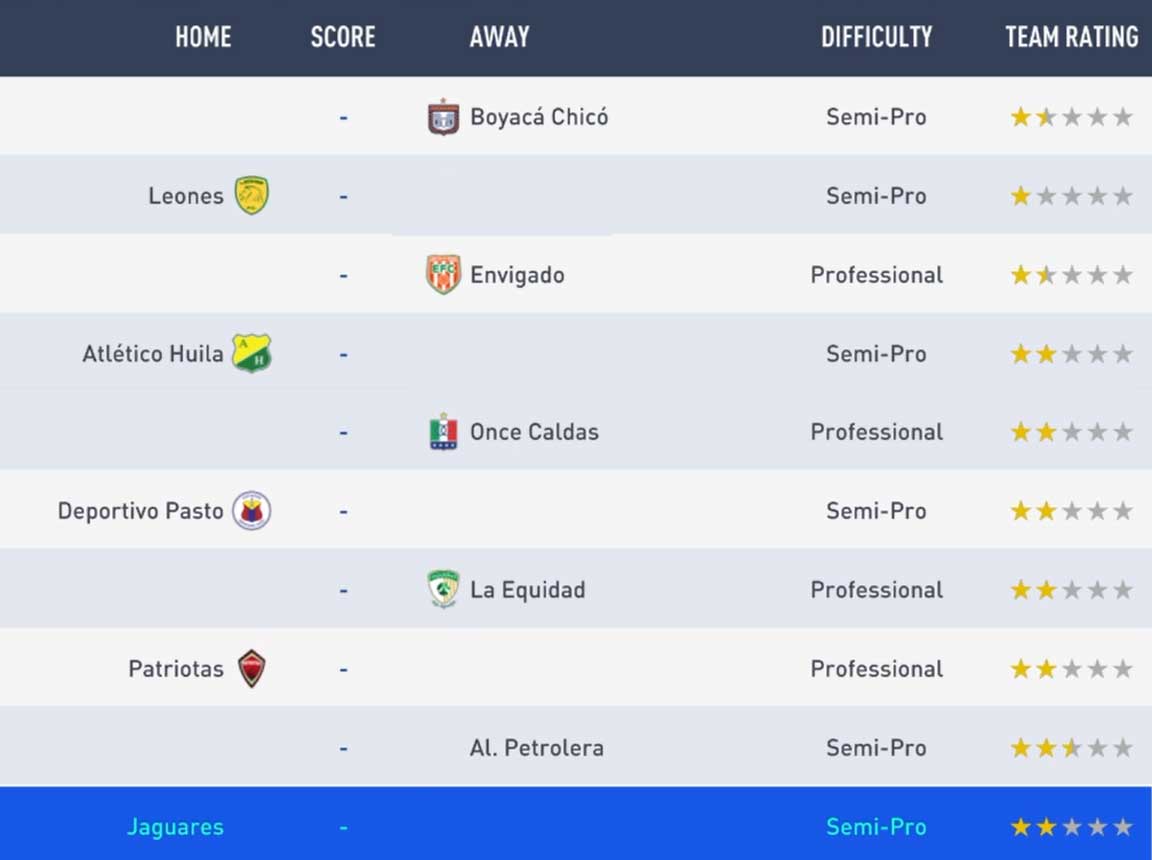 LIGA DIMAYOR
⭐ 1.0
🏆
Title
| 14 or more points | 💰 1,400 coins + 🎴
Jumbo Bronze pack
(tradeable)
⬆️
Promotion
| 11 to 13 points | 💰 1,400 coins
↩️
Holding
| 7 to 10 points points | 💰 1,100 coins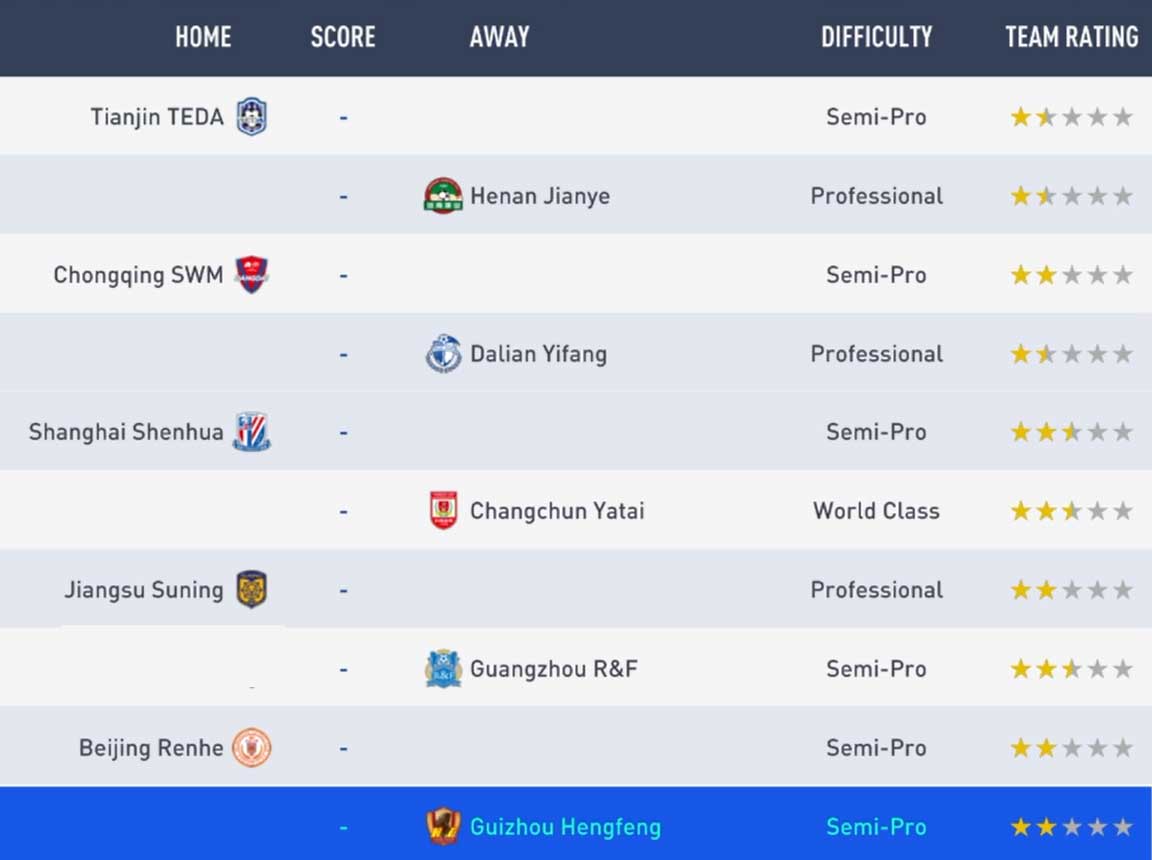 ULTIMATE LEAGUE
⭐ 0.5
🏆
Title
| 14 or more points | 💰 1,900 coins
⬆️
Promotion
| 11 to 13 points | 💰 1,500 coins
↩️
Holding
| 7 to 10 points | 💰 1,200 coins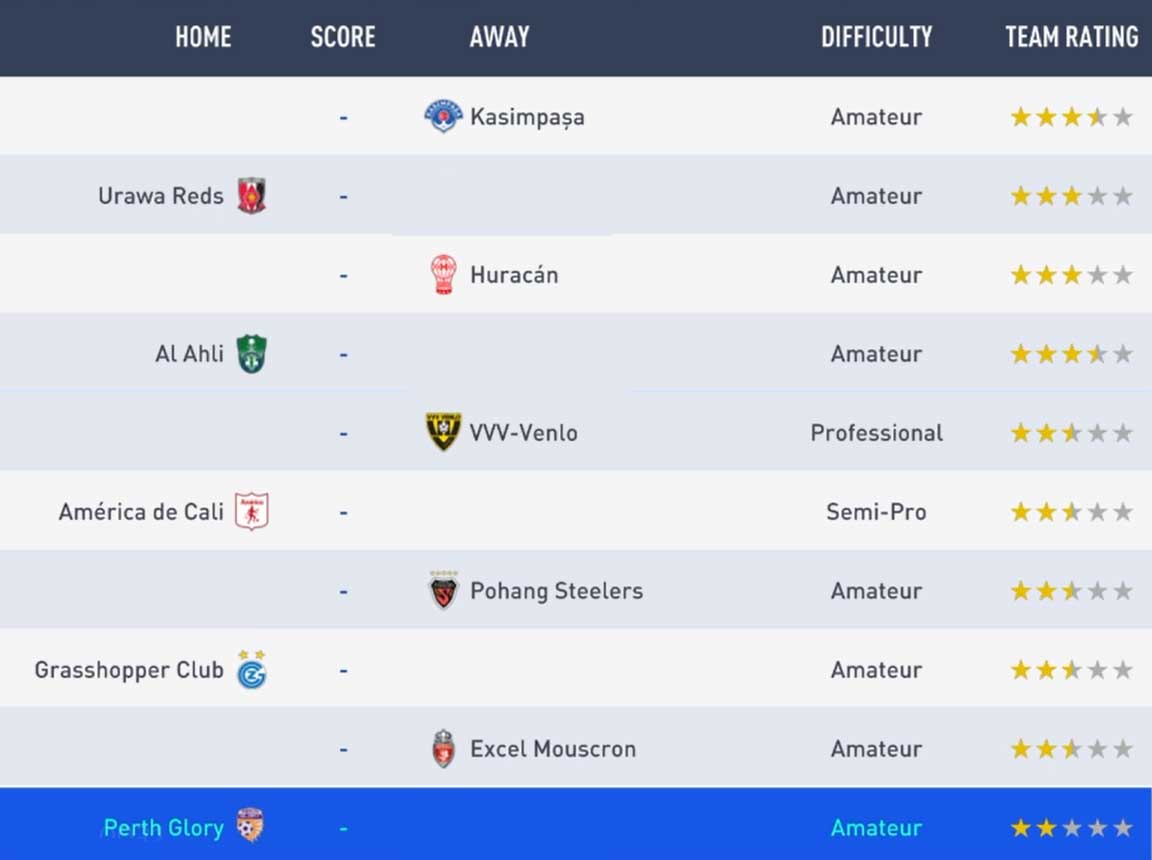 CONFIRMED
WORLD TOUR
⭐ 0.5
🏆
Title
| 16 or more points | 💰 1,700 coins + 🎴
Bronze Gift pack
(tradeable)
⬆️
Promotion
| 13 to 15 points | 💰 1,000 coins
↩️
Holding
| 9 to 12 points | 💰 800 coins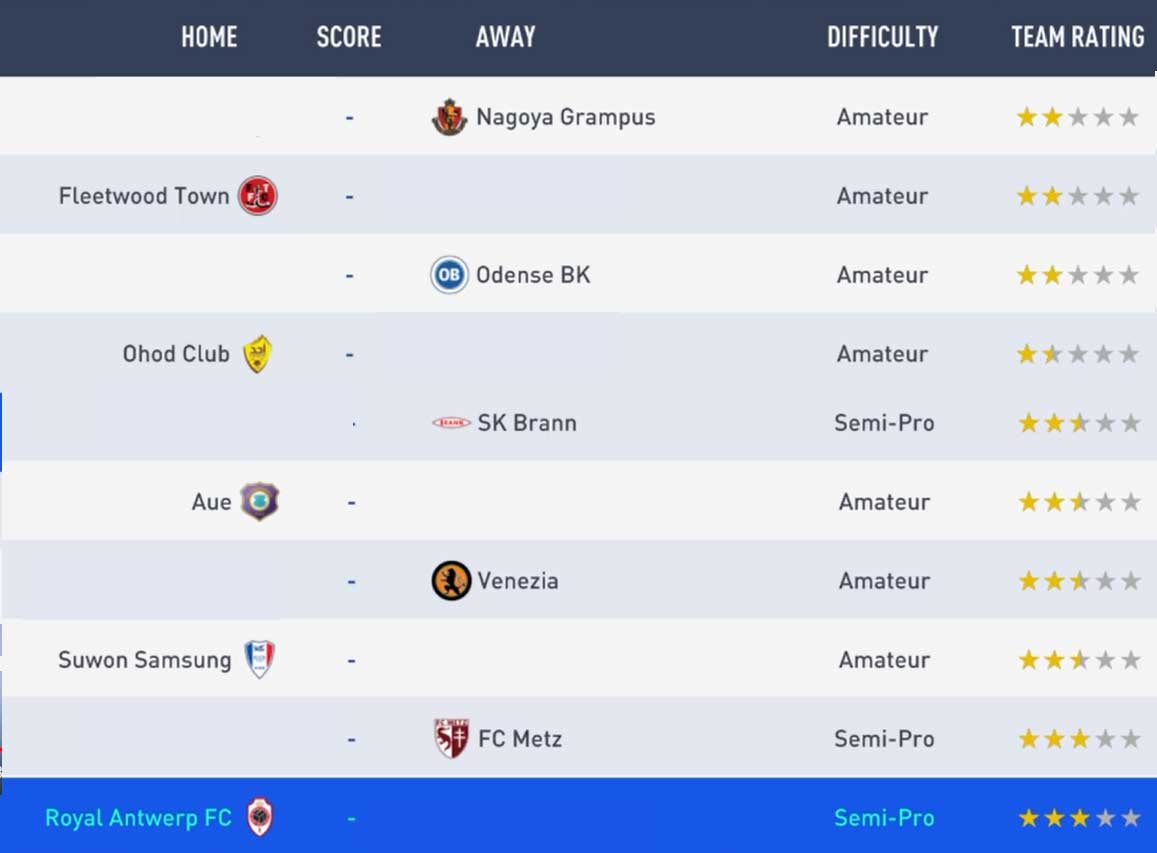 EFL LEAGUE TWO
⭐ 0.5
🏆
Title
| 16 or more points | 💰 1,500 coins
⬆️
Promotion
| 13 to 15 points | 💰 1,200 coins
↩️
Holding
| 9 to 12 points | 💰 900 coins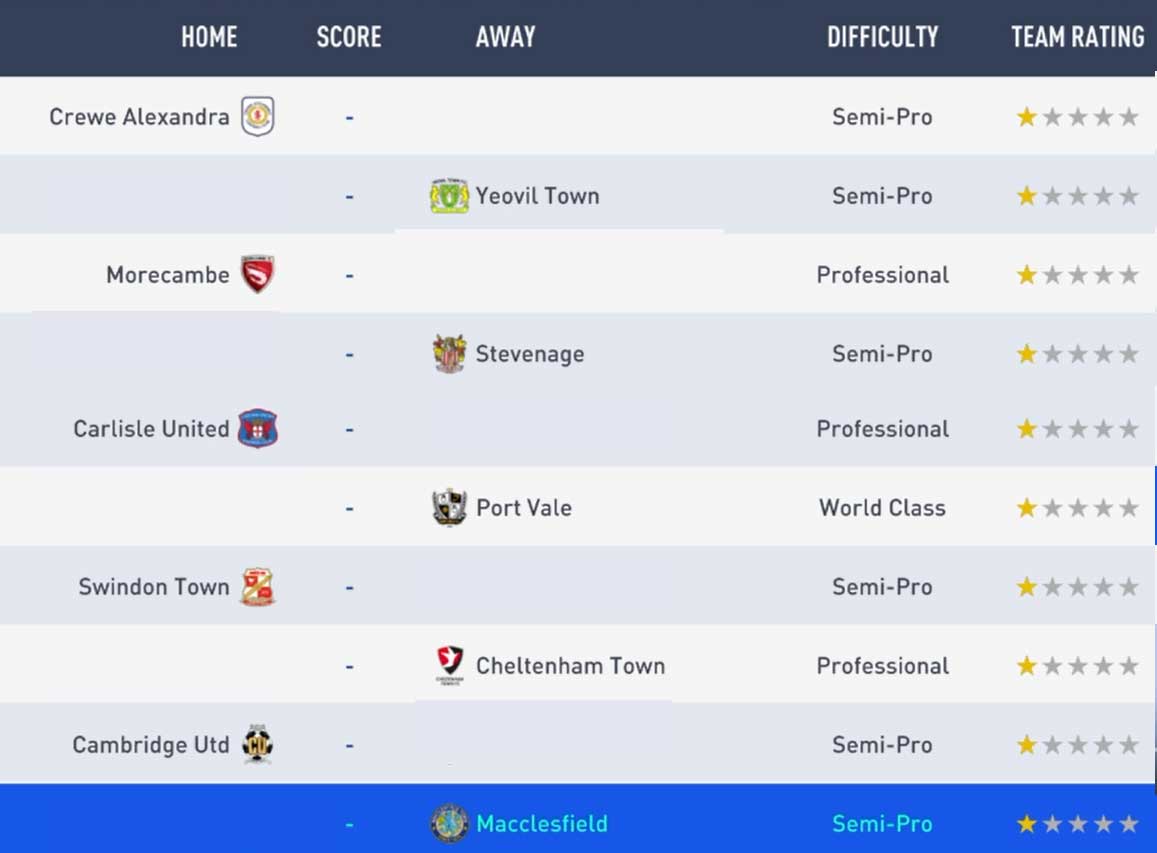 A-LEAGUE
⭐ 1.0
🏆
Title
| 16 or more points | 💰 1,800 coins
⬆️
Promotion
| 13 to 15 points | 💰 1,400 coins
↩️
Holding
| 9 to 12 points | 💰 1,100 coins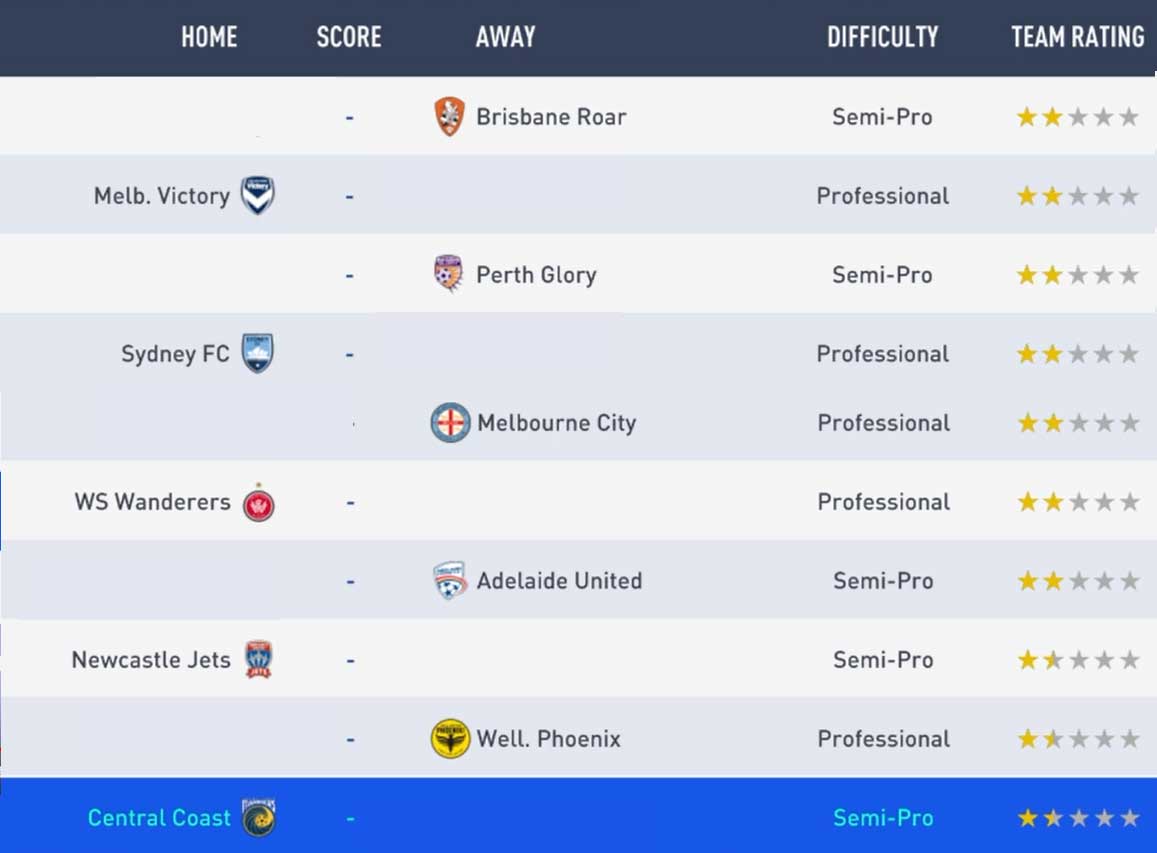 ULTIMATE LEAGUE
⭐ 2.0
🏆
Title
| 16 or more points | 💰 2,400 coins + 🎴
Jumbo Bronze pack
(tradeable)
⬆️
Promotion
| 13 to 15 points | 💰 1,800 coins
↩️
Holding
| 9 to 12 points | 💰 1,400 coins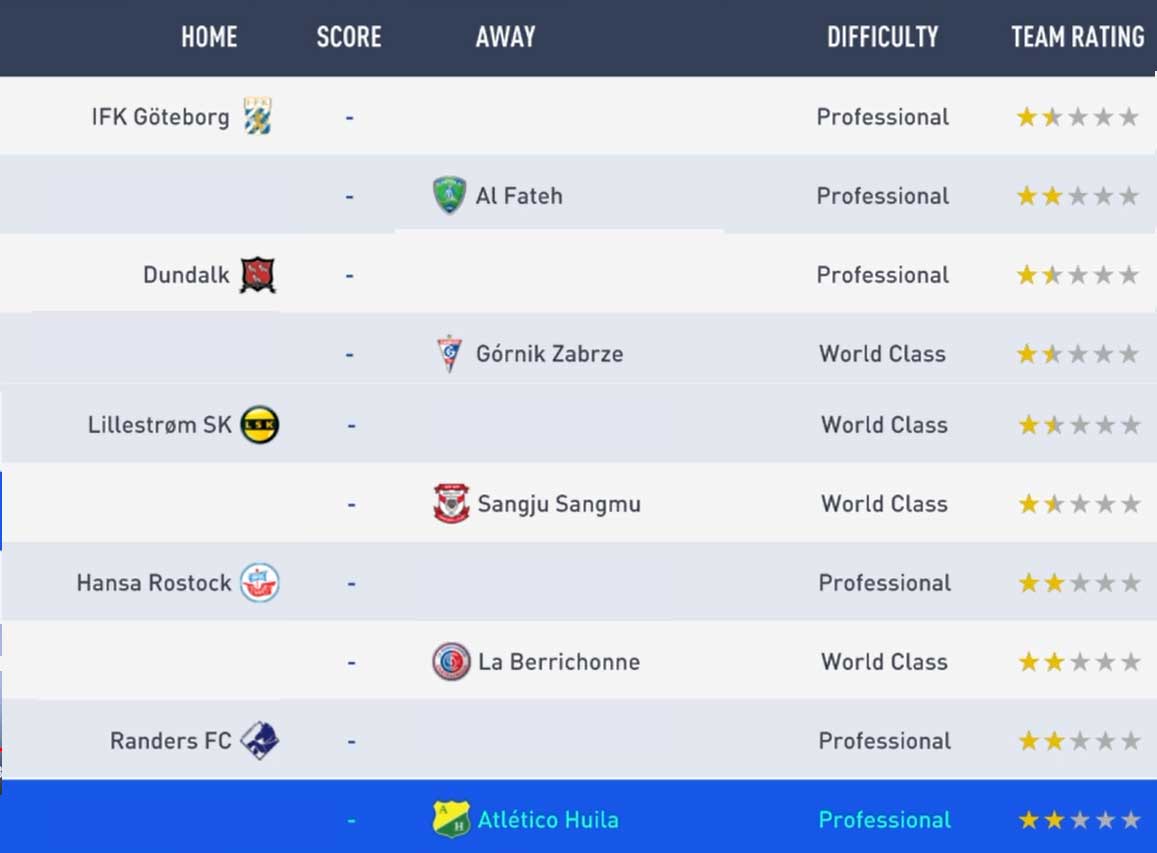 CONFIRMED
WORLD TOUR
⭐ 1.0
🏆
Title
| 23 or more points | 💰 2,300 coins + 🎴
Bronze Contracts pack
(tradeable)
⬆️
Promotion
| 20 to 22 points | 💰 1,900 coins
↩️
Holding
| 10 to 19 points | 💰 1,400 coins
ALLSVENSKAN
⭐ 1.0
🏆
Title
| 18 or more points | 💰 2,200 coins + 🎴
Bronze pack
(tradeable)
⬆️
Promotion
| 15 to 17 points | 💰 2,100 coins
↩️
Holding
| 10 to 14 points | 💰 1,500 coins
LIGA 123
⭐ 1.5
🏆
Title
| 18 or more points | 💰 2,300 coins + 🎴
Silver Gift pack
(tradeable)
⬆️
Promotion
| 15 to 17 points | 💰 1,800 coins
↩️
Holding
| 10 to 14 points | 💰 1,300 coins
SCOTLAND PREMIERSHIP
⭐ 1.0
🏆
Title
| 18 or more points | 💰 3,300 coins
⬆️
Promotion
| 15 to 17 points | 💰 2,600 coins
↩️
Holding
| 10 to 14 points | 💰 1,900 coins
ULTIMATE LEAGUE
⭐ 1.5
🏆
Title
| 18 or more points | 💰 3,150 coins + 🎴
Bronze pack
(tradeable)
⬆️
Promotion
| 15 to 17 points | 💰 3,000 coins
↩️
Holding
| 10 to 14 points | 💰 2,200 coins

TO BE CONFIRMED
WORLD TOUR
⭐ 1.0
🏆
Title
| 23 or more points | 💰 2,500 coins + 🎴
Silver Gift pack
(tradeable)
⬆️
Promotion
| 20 to 22 points | 💰 2,000 coins
↩️
Holding
| 12 to 19 points | 💰 1,400 coins
FOOTBALL LEAGUE 1
⭐ 1.0
🏆
Title
| 20 or more points | 💰 2,700 coins + 🎴
Bronze pack
(tradeable)
⬆️
Promotion
| 17 to 19 points | 💰 1,900 coins
↩️
Holding
| 12 to 16 points | 💰 1,300 coins
POLSKA LIGA
⭐ 1.0
🏆
Title
| 20 or more points | 💰 2,400 coins + 🎴
Silver Gift pack
(tradeable)
⬆️
Promotion
| 17 to 19 points | 💰 1,900 coins
↩️
Holding
| 12 to 16 points | 💰 1,400 coins
SUPERLIGA
⭐ 1.5
🏆
Title
| 20 or more points | 💰 3,800 coins
⬆️
Promotion
| 17 to 19 points | 💰 2,700 coins
↩️
Holding
| 12 to 16 points | 💰 1,900 coins
ULTIMATE LEAGUE
⭐ 2.5
🏆
Title
| 20 or more points | 💰 2,000 coins + 🎴
Silver pack
(tradeable)
⬆️
Promotion
| 17 to 19 points | 💰 3,200 coins
↩️
Holding
| 12 to 16 points | 💰 2,300 coins
TO BE CONFIRMED
WORLD TOUR
⭐ 1.0
🏆
Title
| 25 or more points | 💰 1,800 coins + 🎴
Mixed Contracts pack
(tradeable)
⬆️
Promotion
| 22 to 24 points | 💰 1,900 coins
↩️
Holding
| 13 to 21 points | 💰 1,200 coins
RAIFFEINSEN SL
⭐ 1.0
🏆
Title
| 22 or more points | 💰 2,500 coins + 🎴
Silver Contracts pack
(tradeable)
⬆️
Promotion
| 19 to 21 points | 💰 2,200 coins
↩️
Holding
| 13 to 18 points | 💰 1,400 coins
LIGUE 2
⭐ 1.0
🏆
Title
| 22 or more points | 💰 2,700 coins + 🎴
Silver Gift pack
(tradeable)
⬆️
Promotion
| 19 to 21 points | 💰 2,000 coins
↩️
Holding
| 13 to 18 points | 💰 1,500 coins
TIPPELIGAEN
⭐ 1.0
🏆
Title
| 22 or more points | 💰 4,700 coins
⬆️
Promotion
| 19 to 21 points | 💰 2,700 coins
↩️
Holding
| 13 to 18 points | 💰 2,400 coins
ULTIMATE LEAGUE
⭐ 2.5
🏆
Title
| 22 or more points | 💰 1,550 coins + 🎴
Premium Silver pack
(tradeable)
⬆️
Promotion
| 19 to 21 points | 💰 3,900 coins
↩️
Holding
| 13 to 18 points | 💰 2,600 coins

TO BE CONFIRMED
WORLD TOUR
⭐ 1.5
🏆
Title
| 27 or more points | 💰 2,000 coins + 🎴
Gold Contracts pack
(tradeable)
⬆️
Promotion
| 24 to 26 points | 💰 2,900 coins
↩️
Holding
| 14 to 23 points | 💰 1,700 coins
A. BUNDESLIGA
⭐ 1.5
🏆
Title
| 24 or more points | 💰 2,800 coins + 🎴
Gold Gift pack
(tradeable)
⬆️
Promotion
| 21 to 23 points | 💰 2,200 coins
↩️
Holding
| 14 to 20 points | 💰 1,300 coins
CALCIO B
⭐ 1.5
🏆
Title
| 24 or more points | 💰 2,800 coins + 🎴
Gold Gift pack
(tradeable)
⬆️
Promotion
| 21 to 23 points | 💰 2,200 coins
↩️
Holding
| 14 to 20 points | 💰 1,300 coins
ULTIMATE LEAGUE
⭐ 3.0
🏆
Title
| 24 or more points | 💰 2,300 coins + 🎴
Jumbo Silver pack
(tradeable)
⬆️
Promotion
| 21 to 23 points | 💰 4,400 coins
↩️
Holding
| 14 to 20 points | 💰 2,700 coins

TO BE CONFIRMED
WORLD TOUR
⭐ 2.0
🏆
Title
| 27 or more points | 💰 2,100 coins + 🎴
Gold Contracts pack
(tradeable)
⬆️
Promotion
| 24 to 26 points | 💰 2,600 coins
↩️
Holding
| 14 to 23 points | 💰 1,500 coins
MLS
⭐ 2.0
🏆
Title
| 26 or more points | 💰 2,300 coins + 🎴
Gold Contracts pack
(tradeable)
⬆️
Promotion
| 23 to 25 points | 💰 2,500 coins
↩️
Holding
| 15 to 22 points | 💰 1,600 coins
2. BUNDESLIGA
⭐ 2.0
🏆
Title
| 26 or more points | 💰 3,300 coins + 🎴
Silver Contracts pack
(tradeable)
⬆️
Promotion
| 23 to 25 points | 💰 3,100 coins
↩️
Holding
| 15 to 22 points | 💰 1,900 coins
LEAGUE CHAMPIONSHIP
⭐ 2.0
🏆
Title
| 26 or more points | 💰 7,300 coins
⬆️
Promotion
| 23 to 25 points | 💰 5,500 coins
↩️
Holding
| 15 to 22 points | 💰 3,400 coins
ULTIMATE LEAGUE
⭐ 3.0
🏆
Title
| 24 or more points | 💰 2,300 coins + 🎴
Jumbo Silver pack
(tradeable)
⬆️
Promotion
| 21 to 23 points | 💰 4,700 coins
↩️
Holding
| 14 to 20 points | 💰 3,000 coins

TO BE CONFIRMED
WORLD TOUR
⭐ 2.5
🏆
Title
| 28 or more points | 💰 2,900 coins + 🎴
Gold Contracts pack
(tradeable)
⬆️
Promotion
| 26 to 27 points | 💰 3,200 coins
↩️
Holding
| 15 to 25 points | 💰 1,900 coins
ERDIVISIE
⭐ 2.5
🏆
Title
| 26 or more points | 💰 3,600 coins + 🎴
Premium Bronze Players pack
(tradeable)
⬆️
Promotion
| 23 to 25 points | 💰 4,000 coins
↩️
Holding
| 14 to 22 points | 💰 2,400 coins
LIGA NOS
⭐ 2.5
🏆
Title
| 26 or more points | 💰 4,100 coins + 🎴
Jumbo Premium Bronze pack
(tradeable)
⬆️
Promotion
| 23 to 25 points | 💰 4,200 coins
↩️
Holding
| 15 to 22 points | 💰 2,600 coins
ULTIMATE LEAGUE
⭐ 4.5
🏆
Title
| 26 or more points | 💰 4,000 coins + 🎴
Gold pack
(tradeable)
⬆️
Promotion
| 23 to 25 points | 💰 6,700 coins
↩️
Holding
| 15 to 20 points | 💰 4,100 coins

CONFIRMED
WORLD TOUR
⭐ 3.0
🏆
Title
| 28 or more points | 💰 3,500 coins + 🎴
Silver pack
(tradeable)
↩️
Holding
| 15 to 27 points | 💰 2,600 coins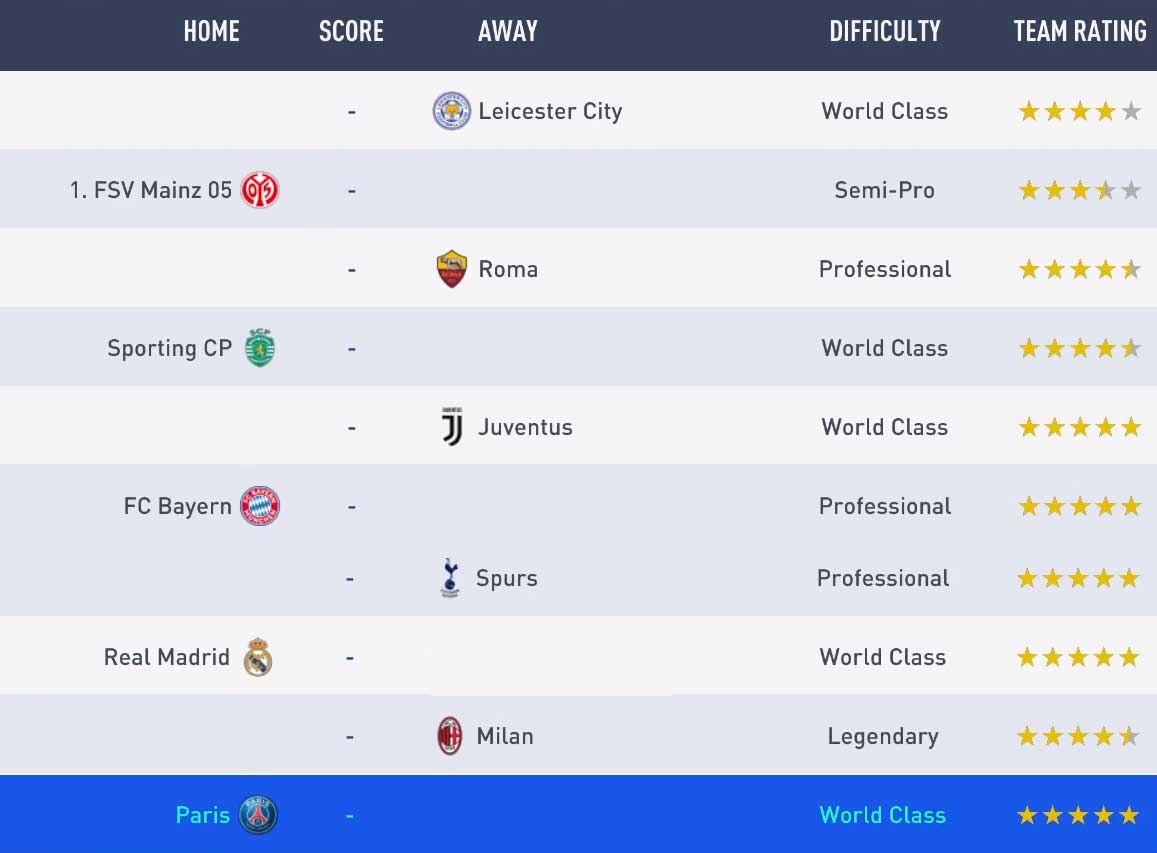 BUNDESLIGA
⭐ 3.0
🏆
Title
| 28 or more points | 💰 2,000 coins + 🎴
Bundesliga Premium Gold pack
(tradeable)
↩️
Holding
| 15 to 27 points | 💰 4,400 coins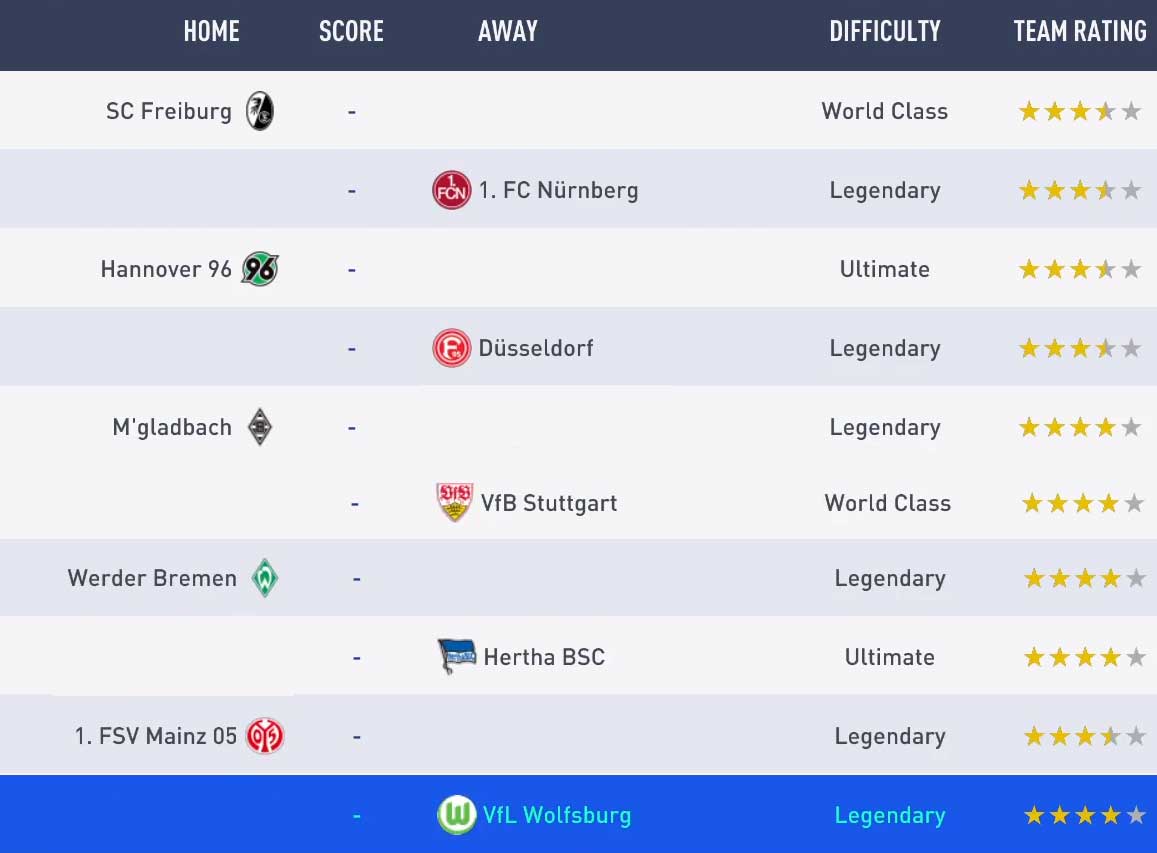 SUPERLIGA ARGENTINA
⭐ 3.0
🏆
Title
| 28 or more points | 💰 2,000 coins + 🎴
Calcio A Premium Gold pack
(tradeable)
↩️
Holding
| 15 to 27 points | 💰 4,300 coins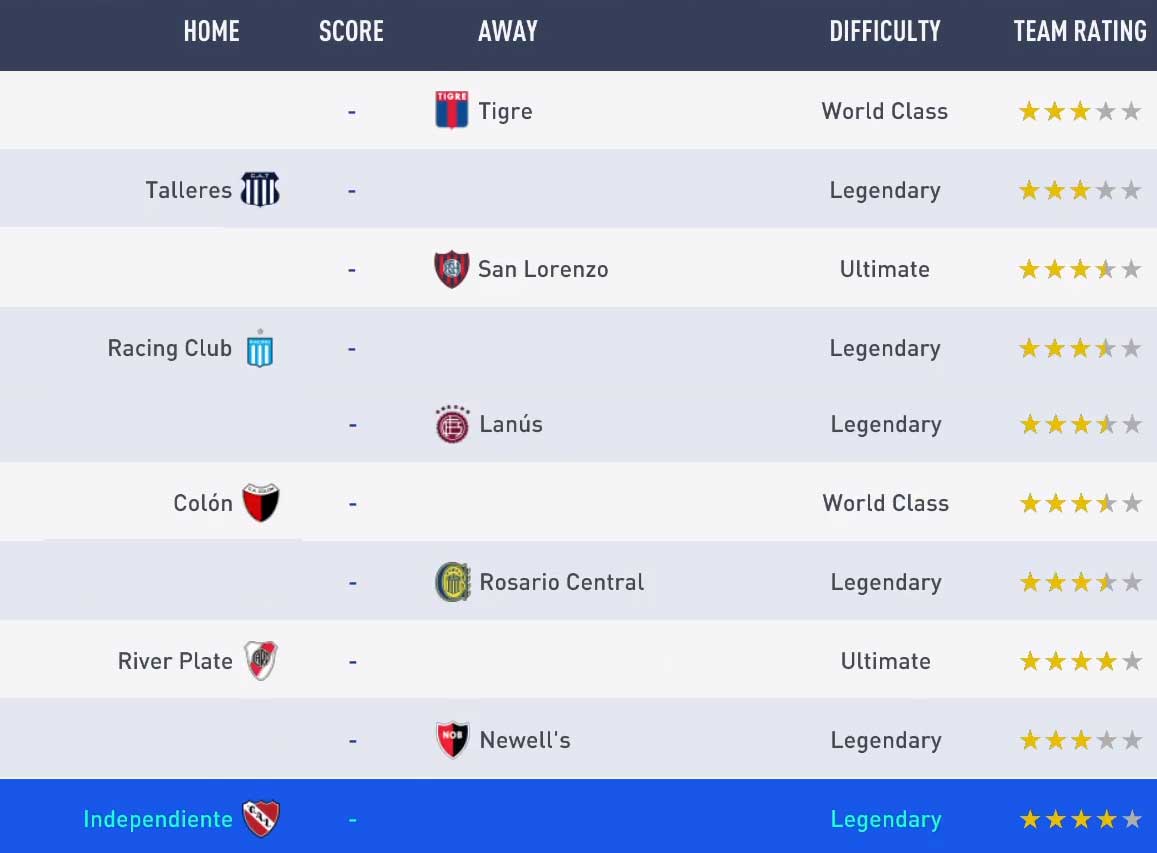 SERIE A
⭐ 3.0
🏆
Title
| 28 or more points | 💰 2,000 coins + 🎴
Calcio A Premium Gold pack
(tradeable)
↩️
Holding
| 15 to 27 points | 💰 4,300 coins
PREMIER LEAGUE
⭐ 3.5
🏆
Title
| 28 or more points | 💰 2,000 coins + 🎴
EPL Premium Gold pack
(tradeable)
↩️
Holding
| 15 to 27 points | 💰 4,500 coins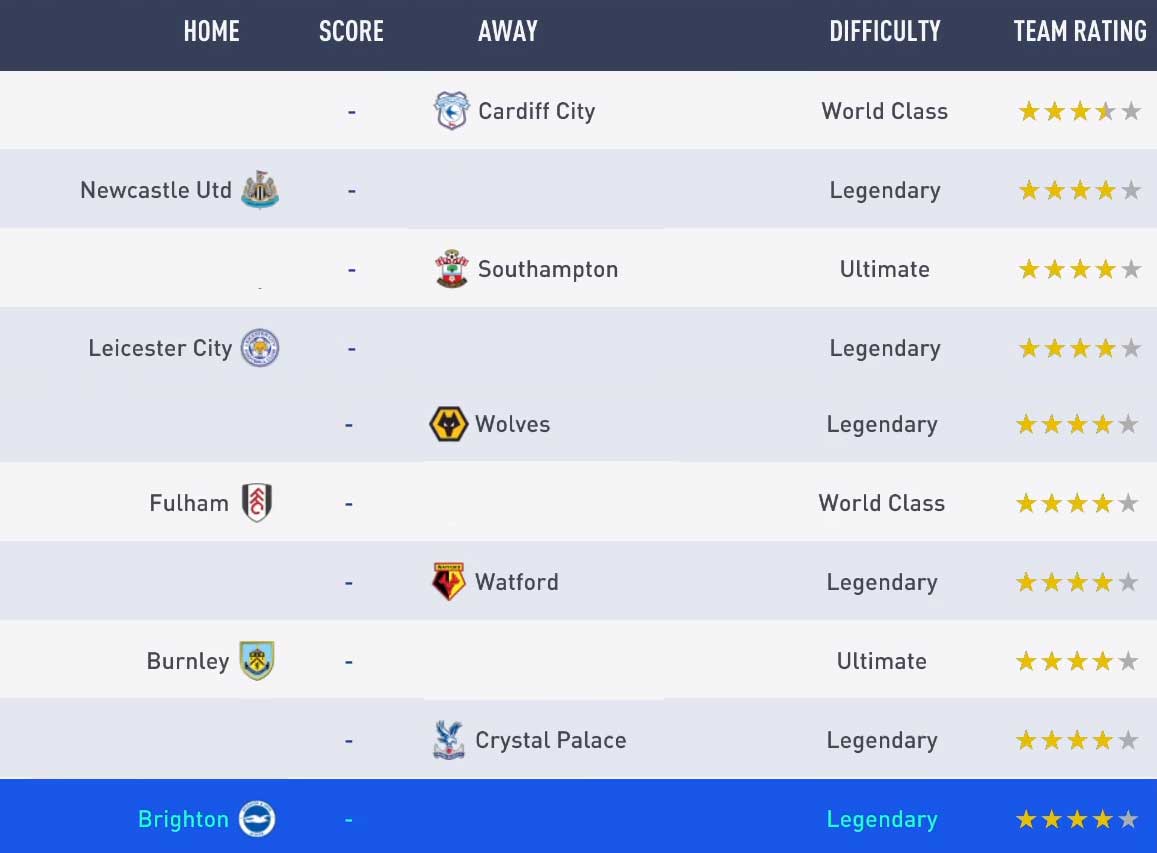 INTERNATIONAL
⭐ 4.5
🏆
Title
| 28 or more points | 💰 2,000 coins + 🎴
EPL Premium Gold pack
(tradeable)
↩️
Holding
| 15 to 27 points | 💰 4,900 coins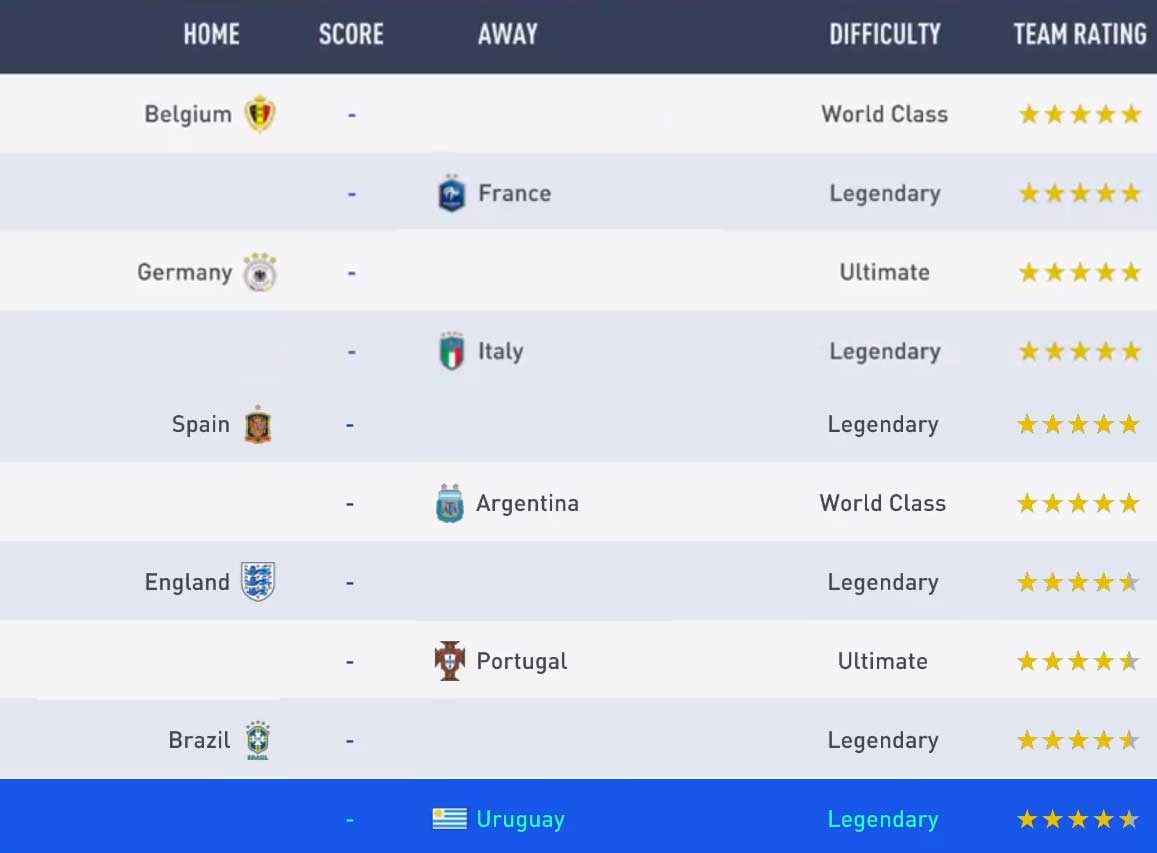 ULTIMATE LEAGUE
⭐ 5.0
🏆
Title
| 30 points | 🎴
Jumbo Premium Gold pack
(tradeable)
↩️
Holding
| 15 to 29 points | 💰 6,200 coins