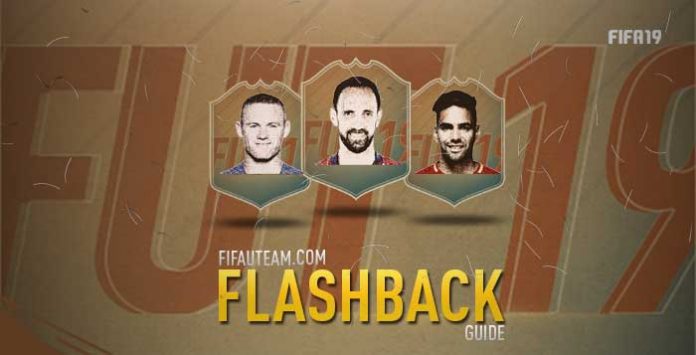 For the first time ever, Flashback cards are being released in Ultimate Team. Follow this FIFA 19 Flashback Players Guide to find out how it works, our predictions and the requirements and rewards for each released challenge.

RELEASED ITEMS

11 92 🇸🇪 ZLATAM IBRAHIMOVIC
10 91 🇪🇸 IKER CASILLAS
09 90 🇦🇷 CARLOS TÉVEZ
08 90 🇧🇷 DANI ALVES
07 87 🇬🇭 KEVIN-PRINCE BOATENG
06 88 🇧🇷 ALEXANDRE PATO
05 88 🏴󠁧󠁢󠁥󠁮󠁧󠁿 DANIEL STURRIDGE
04 87 🇲🇽 JAVIER HERNÁNDEZ
03 87 🇪🇸 PEDRO
02 87 🇩🇪 MARIO GOTZE
01 87 🇪🇸 JUANFRAN

This page will be updated every time a new FIFA 19 Flashback item becomes available.
You can access this page on the top bar navigation: SBC > Flashback
FIFA 19 Flashback
Introduction to the FIFA 19 Flashback
Flashback cards recognize previous accomplishments of currently active players by featuring items with increased stats based on a particularly great season that they had.
These Player's cards are not available in packs and cannot be sold. They can be earned by completing a specific Squad Building Challenge. Each card represents a player's milestone season. Compared to the regular card, the boost of the Flashback card can go as high as ten points.
Flashback cards are released in selected Fridays along the season.
FIFA 19 Flashback Predictions
Which players have chance to be released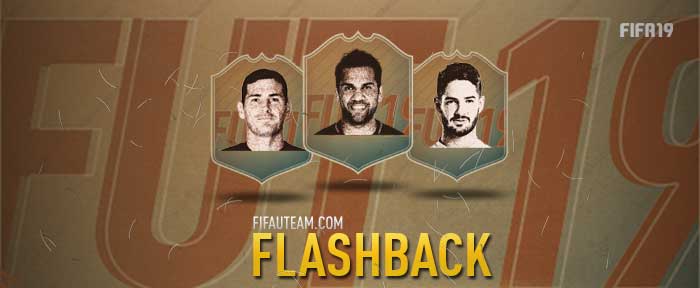 These are the players we believe may get a FIFA 19 Flashback version. Remember that this is only a prediction.
88 🇪🇸 GK: Iker Casillas
89 🇧🇷 RB: Dani Alves
90 🇵🇹 CB: Pepe
87 🇦🇷 CDM: Javier Mascherano
87 🇦🇷 CAM: Carlos Tevez
87 🇪🇸 CAM: Juan Mata
89 🇪🇸 ST: David Villa
90 🇨🇴 ST: Radamel Falcão
89 🏴󠁧󠁢󠁥󠁮󠁧󠁿 ST: Wayne Rooney
87 🇧🇷 ST: Alexandre Pato
FIFA 19 Flashback SBCs
Flashback Challenges and how the SBCs are grouped on FIFA 19
Squad Building Challenges are a great way to make coins using the unwanted cards you have in your team or cheap cards you find in the transfer market. As you probably know, the SBCs are grouped into eleven categories. In this page, you will find all the details about the FIFA 19 Prime ICONS SBCs for Ultimate Team, including the rewards and the requirements for each challenge. Don't forget that you can submit your squads via console/PC, companion app and web app.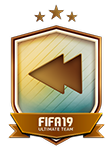 ZLATAN IBRAHIMOVIC
ℹ️ Earn a Flashback Ibrahimović celebrating his inclusion in Team of the Year 2014 [Untradeable]
🔢 2 Challenges
🔁 Non-Repeatable
RELEASE DATE
📆 11/01/2019 to 17/01/2019
GROUP REWARDS
92 🇸🇪 ST: Zlatan Ibrahimovic Flashback card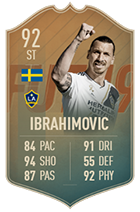 REQUIREMENTS AND REWARDS
SHOW / HIDE
---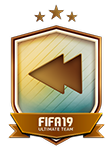 IKER CASILLAS
ℹ️ Earn a Flashback Casillas, celebrating his inclusion in Team of the Year 2013 [Untradeable]
🔢 2 Challenges
🔁 Non-Repeatable
RELEASE DATE
📆 10/01/2019 to 16/01/2019
GROUP REWARDS
91 🇪🇸 GK: Iker Casillas Flashback card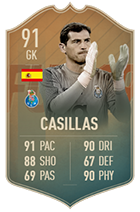 REQUIREMENTS AND REWARDS
SHOW / HIDE
---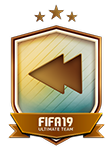 CARLOS TÉVEZ
ℹ️ Earn a Flashback Tevez celebrating his 2007/2008 Season [Untradeable]
🔢 2 Challenges
🔁 Non-Repeatable
RELEASE DATE
📆 04/01/2019 to 07/01/2019
GROUP REWARDS
90 🇦🇷 ST: Carlos Tévez Flashback card
Dynamic image is not available for this card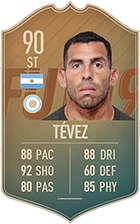 REQUIREMENTS AND REWARDS
SHOW / HIDE
---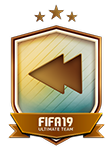 DANI ALVES
ℹ️ Earn a Flashback Alves celebrating his 2010/2011 Season [Untradeable]
🔢 2 Challenges
🔁 Non-Repeatable
RELEASE DATE
📆 03/12/2018 to 06/12/2018
GROUP REWARDS
90 🇧🇷 RB: Dani Alves Flashback card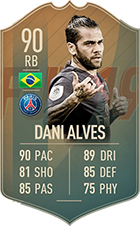 REQUIREMENTS AND REWARDS
SHOW / HIDE
---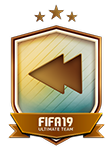 KEVIN-PRINCE BOATENG
ℹ️ Earn a Flashback Boateng celebrating his 2010/2011 Season [Untradeable]
🔢 2 Challenges
🔁 Non-Repeatable
RELEASE DATE
📆 30/11/2018 to 02/12/2018
GROUP REWARDS
87 🇬🇭 CM: Kevin-Prince Boateng Flashback card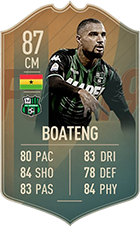 REQUIREMENTS AND REWARDS
SHOW / HIDE
---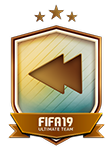 ALEXANDRE PATO
ℹ️ Earn a Flashback Pato celebrating his 2008/2009 Season [Untradeable]
🔢 2 Challenges
🔁 Non-Repeatable
RELEASE DATE
📆 26/11/2018 to 28/11/2018
GROUP REWARDS
88 🇧🇷 ST: Alexandre Pato Flashback card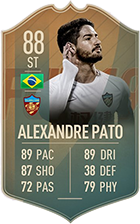 REQUIREMENTS AND REWARDS
SHOW / HIDE
---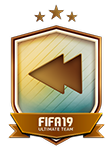 DANIEL STURRIDGE
ℹ️ Earn a Flashback Sturridge celebrating his 2013/2014 Season [Untradeable]
🔢 2 Challenges
🔁 Non-Repeatable
RELEASE DATE
📆 23/11/2018 to 25/11/2018
GROUP REWARDS
88 🏴󠁧󠁢󠁥󠁮󠁧󠁿 ST: Daniel Sturridge Flashback card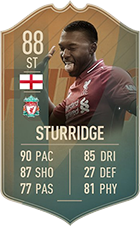 REQUIREMENTS AND REWARDS
SHOW / HIDE
---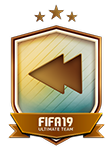 JAVIER HERNÁNDEZ
ℹ️ Earn a Flashback Chicharito celebrating his 2010/2011 Season [Untradeable]
🔢 2 Challenges
🔁 Non-Repeatable
RELEASE DATE
📆 19/11/2018 to 22/11/2018
GROUP REWARDS
87 🇲🇽 ST: Javier Hernández Flashback card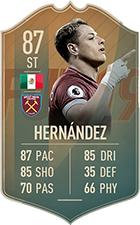 REQUIREMENTS AND REWARDS
SHOW / HIDE
---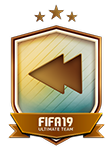 PEDRO
ℹ️ Exchange 14 FUT Swap Items, earned during November, for Flashback Pedro [Untradeable]
🔢 2 Challenges
🔁 Non-Repeatable
RELEASE DATE
📆 05/11/2018 to 30/11/2018
GROUP REWARDS
87 🇪🇸 RW: Pedro Flashback card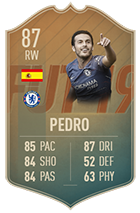 REQUIREMENTS AND REWARDS
SHOW / HIDE
---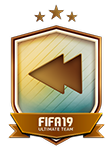 MARIO GOTZE
ℹ️ Earn a Flashback Götze celebrating his International Success in 2014 [Untradeable]
🔢 2 Challenges
🔁 Non-Repeatable
RELEASE DATE
📆 03/11/2018 to 06/11/2018
GROUP REWARDS
87 🇩🇪 CF: Mario Gotze Flashback card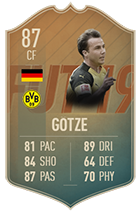 REQUIREMENTS AND REWARDS
SHOW / HIDE
---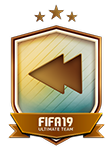 JUANFRAN
ℹ️ Earn a Flashback Juanfran celebrating his 2013/2014 season [Untradeable]
🔢 2 Challenges
🔁 Non-Repeatable
RELEASE DATE
📆 12/10/2018 to 16/10/2018
GROUP REWARDS
87 🇪🇸 RB: Juanfran Flashback card
REQUIREMENTS AND REWARDS
SHOW / HIDE
---