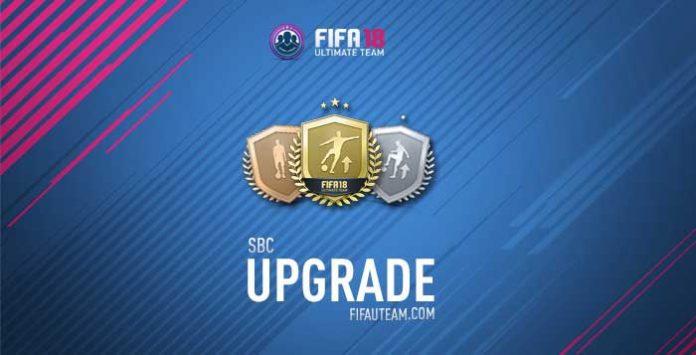 Upgrades SBCs were designed to let you reach the next level, submitting the players you don't want and receiving others from higher qualities. If you need help completing these FIFA 18 Squad Building Challenges, you can check this guide, where you will find the requirements and the rewards for each challenge.


FIFA 18 UPGRADES SBCs

GOLD UPGRADE PLUS
GOLD UPGRADE II
SILVER UPGRADE II
BRONZE UPGRADE II
GOLD UPGRADE
SILVER UPGRADE
BRONZE UPGRADE



You can access this page on the top bar navigation: SBC > Upgrades
FIFA 18 Squad Building Challenges – Upgrades SBCs
FIFA 18 Upgrades Challenges and how the SBCs are grouped

Squad Building Challenges were introduced last year in Ultimate Team. It is a great way to make coins using the unwanted cards you have in your team or cheap cards you find in the transfer market. As you probably know, the SBCs are grouped into eight categories:
✔️ Basic
✔️ Advanced
✔️ Upgrades
✔️ Leagues
✔️ Marquee Matchups
✔️ POTM
✔️ Prime ICONS
✔️ Live
In this page, you will find all the details about the upgrades SBCs for FIFA 18 Ultimate Team, including the rewards and the requirements for each challenge. Don't forget that this year you can submit your squads via console/PC, companion app and web app.
GOLD UPGRADE PLUS
🔢 1 Challenge
🔁 Repeatable
📆 From November 15 to November 17, 2017
GROUP REWARDS
🎴 1 x Two Rare Gold Player Plus Pack
1️⃣
GOLD UPGRADE

REQUIREMENTS
✔️ Min. Rare Players: 5
✔️ Exactly Gold Players
✔️ Min. Team Chemistry: 40
✔️ Number of Players in the Squad: 11

1️⃣
GOLD UPGRADE

REQUIREMENTS
✔️ Exactly Gold Players
✔️ Min. Team Chemistry: 40
✔️ Number of Players in the Squad: 11

SILVER UPGRADE
🔢 1 Challenge
🔁 Repeatable
📆 From October 20 to November 3, 2017
GROUP REWARDS
🎴 3x Common Gold Players
1️⃣
SILVER UPGRADE

REQUIREMENTS
✔️ Exactly Silver Players
✔️ Min. Team Chemistry: 40
✔️ Number of Players in the Squad: 11

BRONZE UPGRADE
🔢 1 Challenge
🔁 Repeatable
📆 From October 20 to November 3, 2017
GROUP REWARDS
🎴 2x Silver Players
1️⃣
BRONZE UPGRADE

REQUIREMENTS
✔️ Exactly Bronze Players
✔️ Min. Team Chemistry: 40
✔️ Number of Players in the Squad: 11

1️⃣
GOLD UPGRADE

REQUIREMENTS
✔️ Exactly Gold Players
✔️ Min. Team Chemistry: 40
✔️ Number of Players in the Squad: 11

SILVER UPGRADE
🔢 1 Challenge
🔁 Repeatable
📆 From September 21 to October 6, 2017
GROUP REWARDS
🎴 3x Common Gold Players
1️⃣
SILVER UPGRADE

REQUIREMENTS
✔️ Exactly Silver Players
✔️ Min. Team Chemistry: 40
✔️ Number of Players in the Squad: 11

BRONZE UPGRADE
🔢 1 Challenge
🔁 Repeatable
📆 From September 21 to October 6, 2017
GROUP REWARDS
🎴 2x Silver Players
1️⃣
BRONZE UPGRADE

REQUIREMENTS
✔️ Exactly Bronze Players
✔️ Min. Team Chemistry: 40
✔️ Number of Players in the Squad: 11