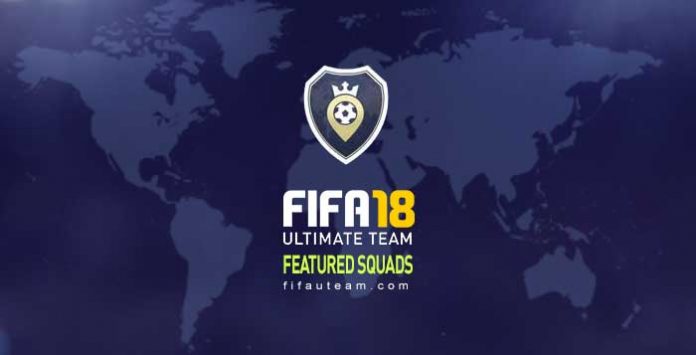 As you know, Squad Battles is a brand new game mode within FIFA 18 Ultimate Team. In this page, you will find a complete list of all featured squads released on FIFA 18 Squad Battles.
This page is updated every time it is announced a new featured squad
You can access this page on the top bar navigation: Live > Squad Battles > Featured Squads
WEEK
OCTOBER | 5 | 4 | 3 | 2
SEPTEMBER | 1
Featured Squads List of FIFA 18 Squad Battles
Complete list of all Featured Squads of FIFA 18 Squad Battles game mode
In the Featured Squad Battle, you can challenge the squads of football players, pro FIFA players and celebrities to test your skills and build your team. Everyone gets the same squad for this one which keeps available for one week. The Featured Squad Battle may sometimes skip a week. Let's check out the complete list of the featured squads for FIFA 18 Ultimate Team.

🕰️ RELEASE DATES & TIMES | When new Featured Squads are refreshed
23/10/2017 (Mon) 02:00am 🇩🇪 GMT (UCT +1)
23/10/2017 (Mon) 01:00am 🇬🇧 GMT (UCT +0)
23/10/2017 (Sun) 09:00pm 🇺🇸🇨🇦 EST (UCT -5)
23/10/2017 (Sun) 06:00pm 🇺🇸 PST (UCT -8)

👤 OWNER | Name of the Player who owns this featured squad
Castro

⚽ THE SQUAD | Name of the Squad
GOATS FC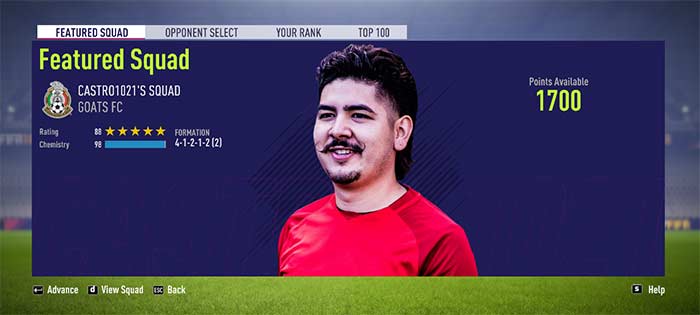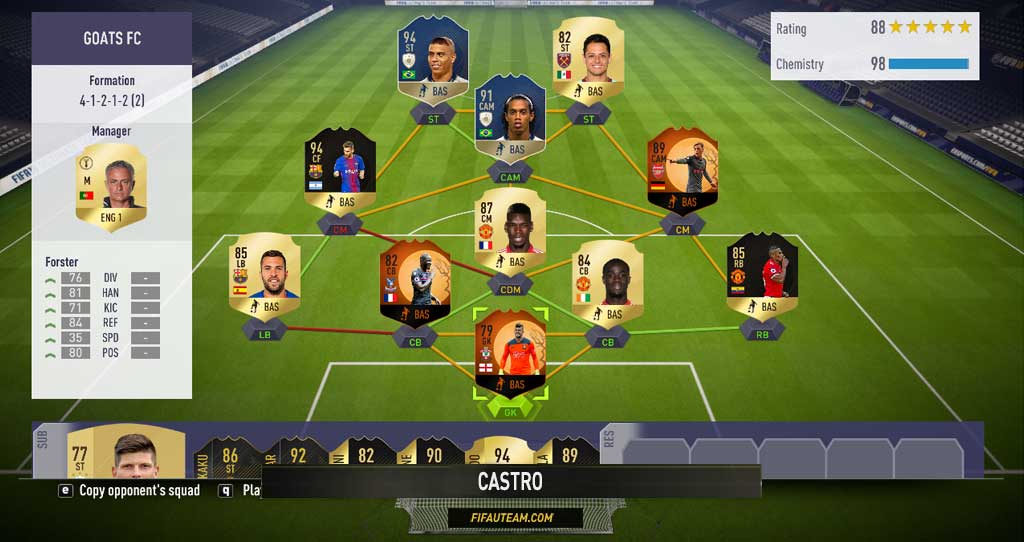 🕰️ RELEASE DATES & TIMES | When new Featured Squads are refreshed
16/10/2017 (Mon) 02:00am 🇩🇪 GMT (UCT +1)
16/10/2017 (Mon) 01:00am 🇬🇧 GMT (UCT +0)
16/10/2017 (Sun) 09:00pm 🇺🇸🇨🇦 EST (UCT -5)
16/10/2017 (Sun) 06:00pm 🇺🇸 PST (UCT -8)

👤 OWNER | Name of the Player who owns this featured squad
Alexandre Lacazette

⚽ THE SQUAD | Name of the Squad
Lacaz FC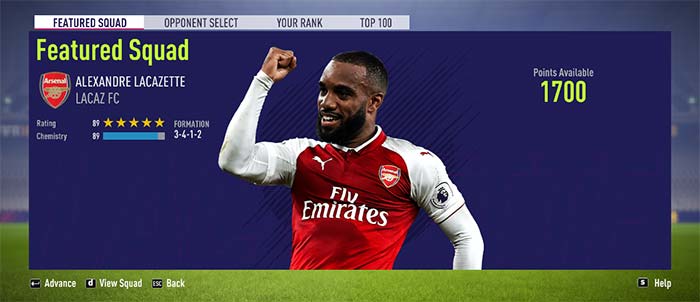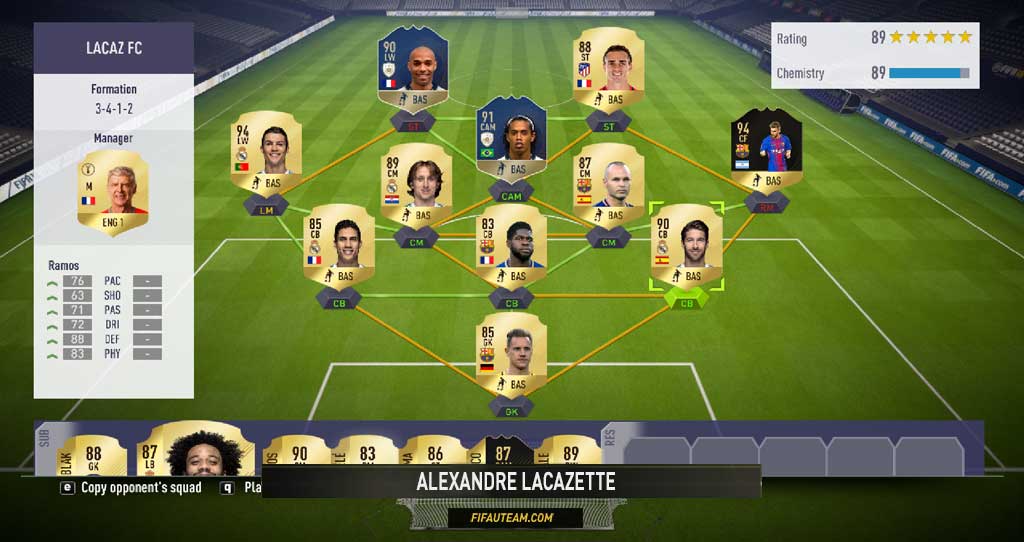 🕰️ RELEASE DATES & TIMES | When new Featured Squads are refreshed
09/10/2017 (Mon) 02:00am 🇩🇪 GMT (UCT +1)
09/10/2017 (Mon) 01:00am 🇬🇧 GMT (UCT +0)
08/10/2017 (Sun) 09:00pm 🇺🇸🇨🇦 EST (UCT -5)
08/10/2017 (Sun) 06:00pm 🇺🇸 PST (UCT -8)

👤 OWNER | Name of the Player who owns this featured squad
Dele Alli

⚽ THE SQUAD | Name of the Squad
Destroyes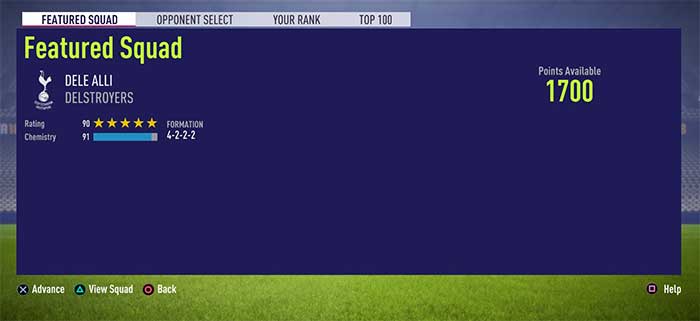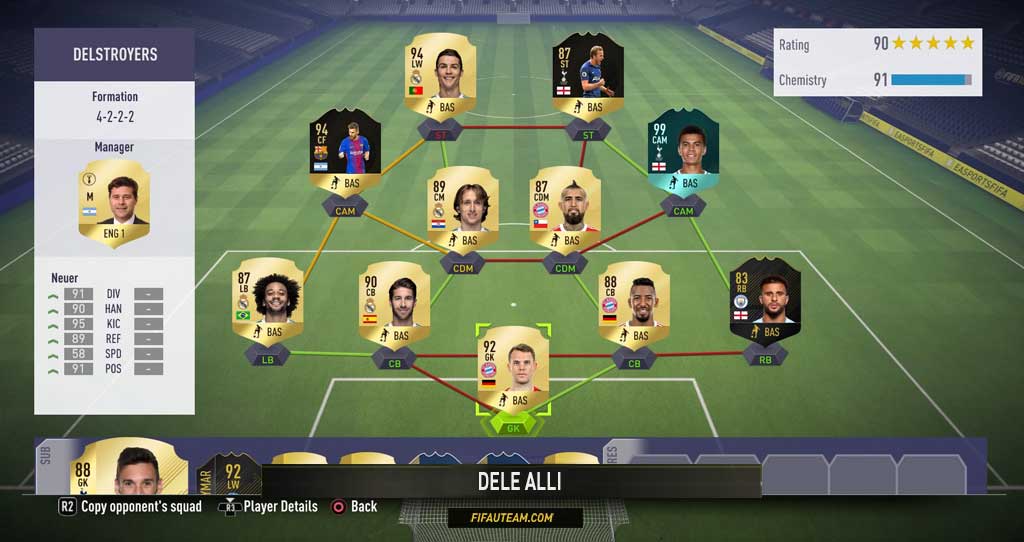 🕰️ RELEASE DATES & TIMES | When new Featured Squads are refreshed
02/10/2017 (Mon) 02:00am 🇩🇪 GMT (UCT +1)
02/10/2017 (Mon) 01:00am 🇬🇧 GMT (UCT +0)
01/10/2017 (Sun) 09:00pm 🇺🇸🇨🇦 EST (UCT -5)
01/10/2017 (Sun) 06:00pm 🇺🇸 PST (UCT -8)

👤 OWNER | Name of the Player who owns this featured squad
Thomas Müller

⚽ THE SQUAD | Name of the Squad
Team ES Muellert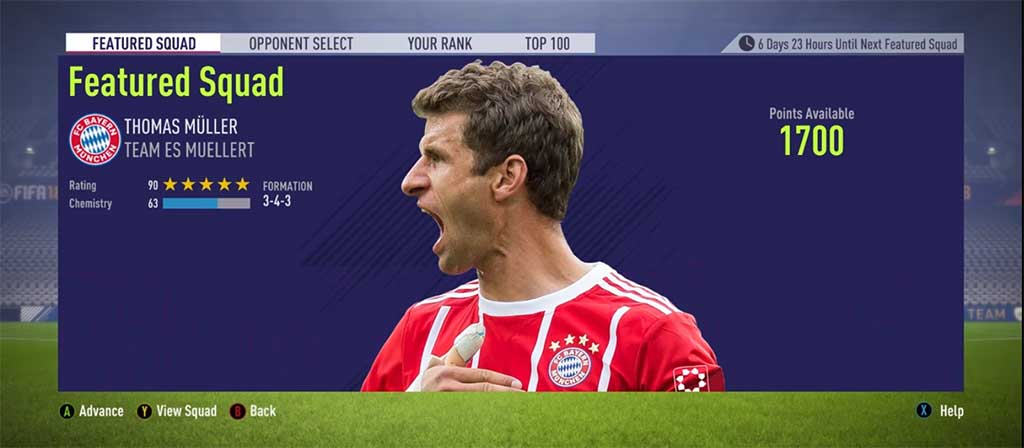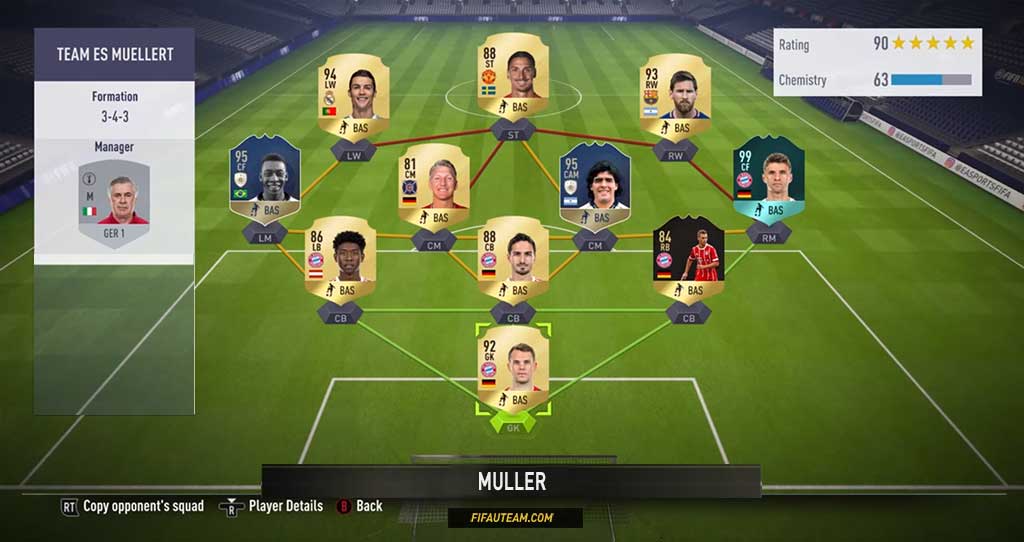 🕰️ RELEASE DATES & TIMES | When new Featured Squads are refreshed
25/09/2017 (Mon) 02:00am 🇩🇪 GMT (UCT +1)
25/09/2017 (Mon) 01:00am 🇬🇧 GMT (UCT +0)
24/09/2017 (Sun) 07:00pm 🇺🇸🇨🇦 EST (UCT -5)
24/09/2017 (Sun) 06:00pm 🇺🇸 PST (UCT -8)

👤 OWNER | Name of the Player who owns this featured squad
Antoine Griezmann

⚽ THE SQUAD | Name of the Squad
Griezmann FC