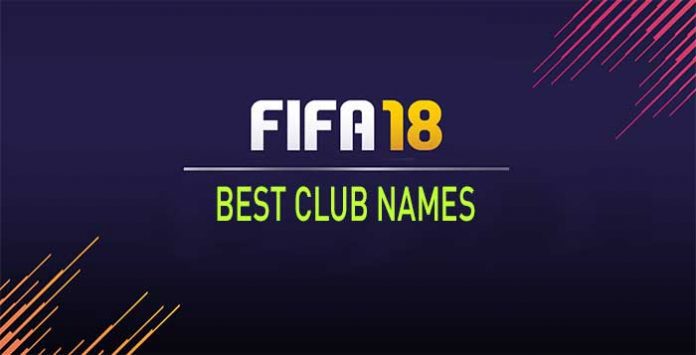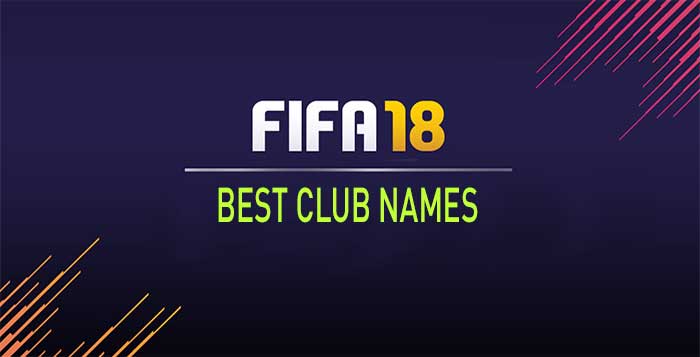 FUT is a game mode that allows you to create your own club. You can choose a name, two kits and a badge to make it unique. But not always is easy to choose among so many alternatives. We make your job easier, suggesting our favourite Club Names for FIFA 18 Ultimate Team. Find out the most original, funniest and best names for your FUT 18 club.
The Best Club Names for FIFA 18 Ultimate Team
The 100 best club names to use in FIFA 18 Ultimate Team

A club's visual identity during the season is made of three elements: name, badge and kit. You can also assign a ball and a stadium to your club but that's not how your team will be known by your opponents. We are decided to help you taking these decisions, providing you articles with the best kits, best badges and best club names for FIFA 18 Ultimate Team.
Every club must have a name. It is the one that will be shown to your opponents on the pre-match screen. If it is your first Ultimate Team experience, you have here the chance to find a good name for your club. In the other hand, if you are a returning player and you are not happy with the name you assigned to your club, maybe you should rename it when you start FUT 18. If you are reading this too late, you can always give a new name to your club, through the starter objectives or buying an item on the EAS FC catalogue. In both ways, you can only change the name once.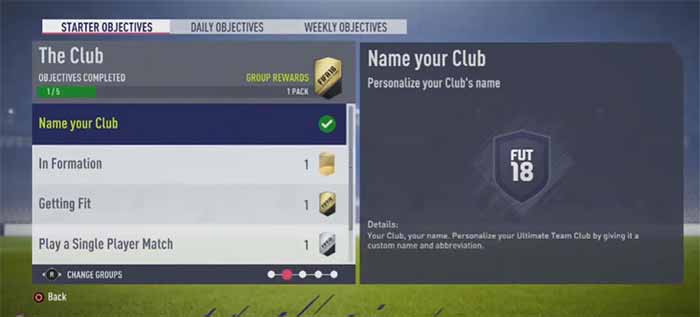 You can change your club's name through the starter objectives
We asked to our community about the most original and funniest names and also made a research into other several communities. Here is the shortlist of our 100 favourite club names for FIFA 18 Ultimate Team.
2 Girls 1 Schlupp
50 Shades of O'Shea

ABCDE F.C
Absolutely Fabregas
Adam Johnsons U16
Alice in Hangeland
Arda Than You
Ayew Serious

Bad Kompany
Bacuna Matata
Bayer Neverlusen
Benteke Fried Chicken
Blink 1 Eto'o
Boca Seniors
Borussia Teeth

Cereal Killers
Cesc and the City
Chicken Tiki Taka
Chiellini Con Carne
Citizen Kane
Ctrl Alt De Laet

Delph & Safety
Dirty Sanchez
Dolce and Lallana
Dyslexia Untied

Egg-fried Reus
Expected Toulouse

Farcelona
Fenerbackache
For Fuchs Sake
Fun Lovren Criminals

Game of Stones
Game of Throw Ins
Giroud Sandstorm
Goal of Duty
Guns N Moses

Happy Birthday Yaya
Hey Juve
Hip Hip Payet
How I met your Mata

I don't Drinkwater
Ibe Gotta Feeling
ISkipReplayIfUDo
It doesn't Mata
I Vardy so Hardy
Ivory Toast

Kant Be Stopped
Kante Touch This
Kroos Control

Lady Yaya
Lallanas in Pyjamas
Lord of the Ings
Luke KyleWalker

Man ChestHair Utd
Mark Noballs
Martial Law
Meet The Fekirs
Michu at De Gea bar
Mkhitaryan Lannister
MoLeicester
Moves Like Agger
Murderonzidanesfloor
My Little Bony

Netsix and Chill
Neville Wears Prada
Nice to Michu
Ninja Skrtles
No Weimann No Cry

Paralympiakos
Pepe Show
Pique Blinders
Pjanic at the Isco
PuyolPantsDown

Real Betis Hotpot
Robben Banks

Show me da Mané
Shut The FAcup
SkipReplayIfUDo
Slumdog Mignolet
Smalling than you
SugarKane

Tea & Busquets
The Balotelli-tubbies
The Big Blaszczykowski's
The Big Lewandowski
The Kouyate Kid
The Neville Wears Prada
The Walking Dede
The Wizard of Ozil
The Zarate Kid
Things are getting Messi
TyranoSuarez Rex

Unprotected Cesc
Unreal Madrid
UrGoingToulouse

Who Ate All Depays
Wii Not Fit
Willian Dollar Baby
Feel free to share with us in the comments your favourite Club Names for FIFA 18, even if they are not in this list.