The Produções RL team is directed by Rodrigo Lopes.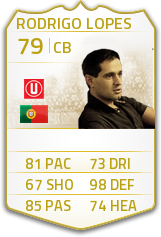 Born in Funchal, Portugal, in the late 70s, he began very early in the world of technology and computer games. He plays FIFA since the first game and surfs intensively on the Internet since 1997.
RL, an engineer, loves computers, games, photography, football and cinema.
Despite his great experience with similar projects, FIFA U Team was his first major challenge open to the community.
Follow him on Google Plus.
Random Posts

Recent Posts

Popular Posts